While expanding your team, you might be wondering which of the roles you should prioritize – UI, or a UX designer. You must know the difference between them before making the decision. A UI designer will focus on visual details, making sure your digital products are pleasing to the eye while remaining user-friendly. On the other hand, a UX designer will focus on product architecture and solving the technical issues associated with the experience on the behalf of the user.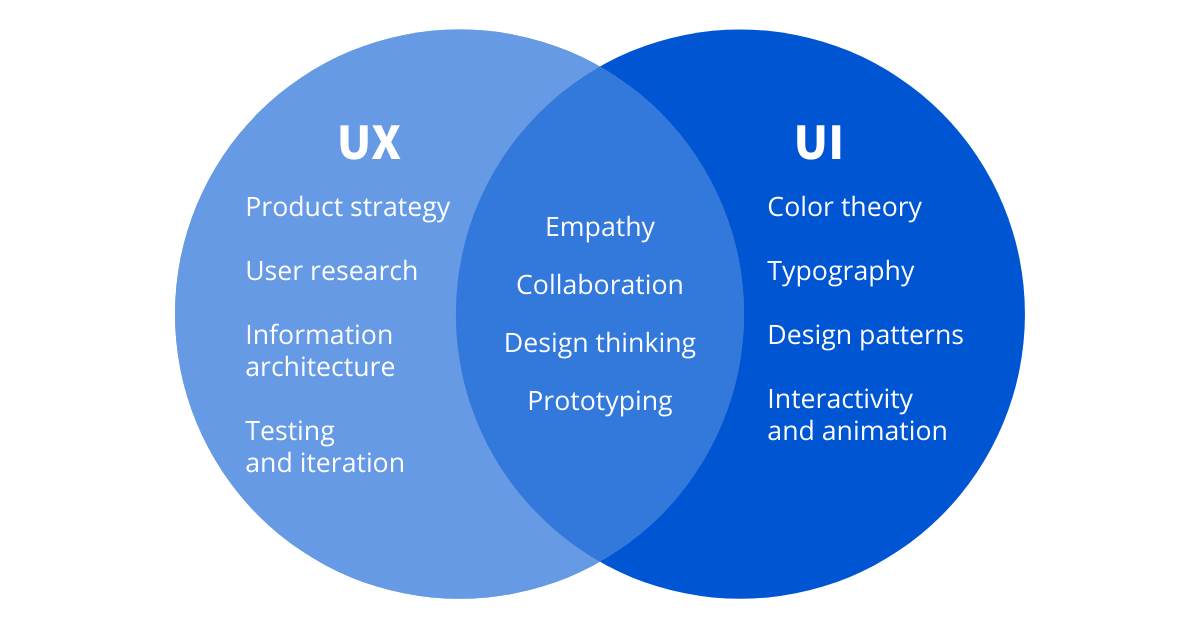 UX and UI Designer are different roles, however, they have a number of similar responsibilities. Above is an example of tasks that are shared in the two positions. Source: Coursera.org
At Prosperity we believe that if you find yourself in a position where you can only hire one person, prioritize a UX Designer. Here´s why:
One of the most crucial aspects of a strong user experience is desirability, which ensures that you are providing users with something that they want or need. Ideally, you want to hire a candidate that has a vast UX understanding, including user research and total value, rather than someone who merely considers UX while generating wireframes. Moreover, UX Design incorporates a range of different skills. The variety of UX abilities can be considered a spectrum, with one end representing "softer" talents, such as the capacity to empathize with people, and the other end representing more technical skills, such as the ability to design working prototypes in HTML and CSS.
UX/UI Designer, the rise of the generalist
Truth is, most companies might not be in a position to hire both UX and UI Designer, and don't want to give up on the possibility to hire a UX Designer with at least a bit of knowledge and experience in UI. Therefore, the rise in the mixed role - UX/UI Designer so prevalent in job boards nowadays. If your needs for separate UX and UI specialists are not very high, then considering hiring a UX/UI Designer might not be a bad solution after all.
Most of the UX professionals have different areas of expertise, however, their abilities will typically fall into one of three high-level skill set categories:
User research
While conducting user research, the UX designer will aim at understanding who the customers are, and how their needs can be met. The common deliverables of this category are:
Analytics reports
Personas
Scenarios
Journey maps
Task analyses
Information architecture/ interaction design
The UX professional will generally define the structure and processes of the user experience under the field of information architecture. The common deliverables are:
Wireframes
Site maps
Storyboards
Journey maps
Low-fidelity prototypes
Visual design
Many of a UX professional's tasks will be similar to those of a graphic designer, as one of the most essential aspects of this position is developing the look and feel of the digital product.
The common deliverables are the following:
High-fidelity wireframes
Prototypes
Pattern libraries
Font selection
Comps
User Experience – a transforming landscape.
The specific responsibilities described above are, however, far from universal. UX expertise is rarely limited to a single niche. In a small business, for example, an "interaction designer" might oversee wire framing, prototyping, content development, and usability testing. An interaction designer in a large corporation may have a more specialized role, focusing solely on creating wireframes and prototypes. It is moreover becoming more common for candidates to position themselves as UX generalists or architects, regardless of their specific responsibilities.

Different areas of responsibility of UX Designers. Source: ltts.com
The ever-evolving role of a UX Designer
In general, UX Designers are data enthusiasts who can create interactive experiences for the most specialized audiences. They understand the value of putting themselves in the shoes of a user and know exactly how to conduct a user analysis (including development of personas, site maps, taxonomies and wireframes) and deliver an interactive project from start to finish.
The role of a UX designer is expanding across different businesses. UX designers and business developers are now collaborating closely. Lines between departments are becoming more hazy in the digital industry, as they are in other professions, as executives strive to unite several teams around a single objective.
Now, if you'd like to start hiring UX professionals, have a look at series of blog posts where we discuss all about UX: Which UX profiles should you recruit, Questions to ask them when interviewing, or what type of designers you should hire first. Finally, if you are lost on to what to pay to UX/UI professionals, check our survey for UX/UI salaries.
---
If you wish to know more about recruitment trends in general, read more here.