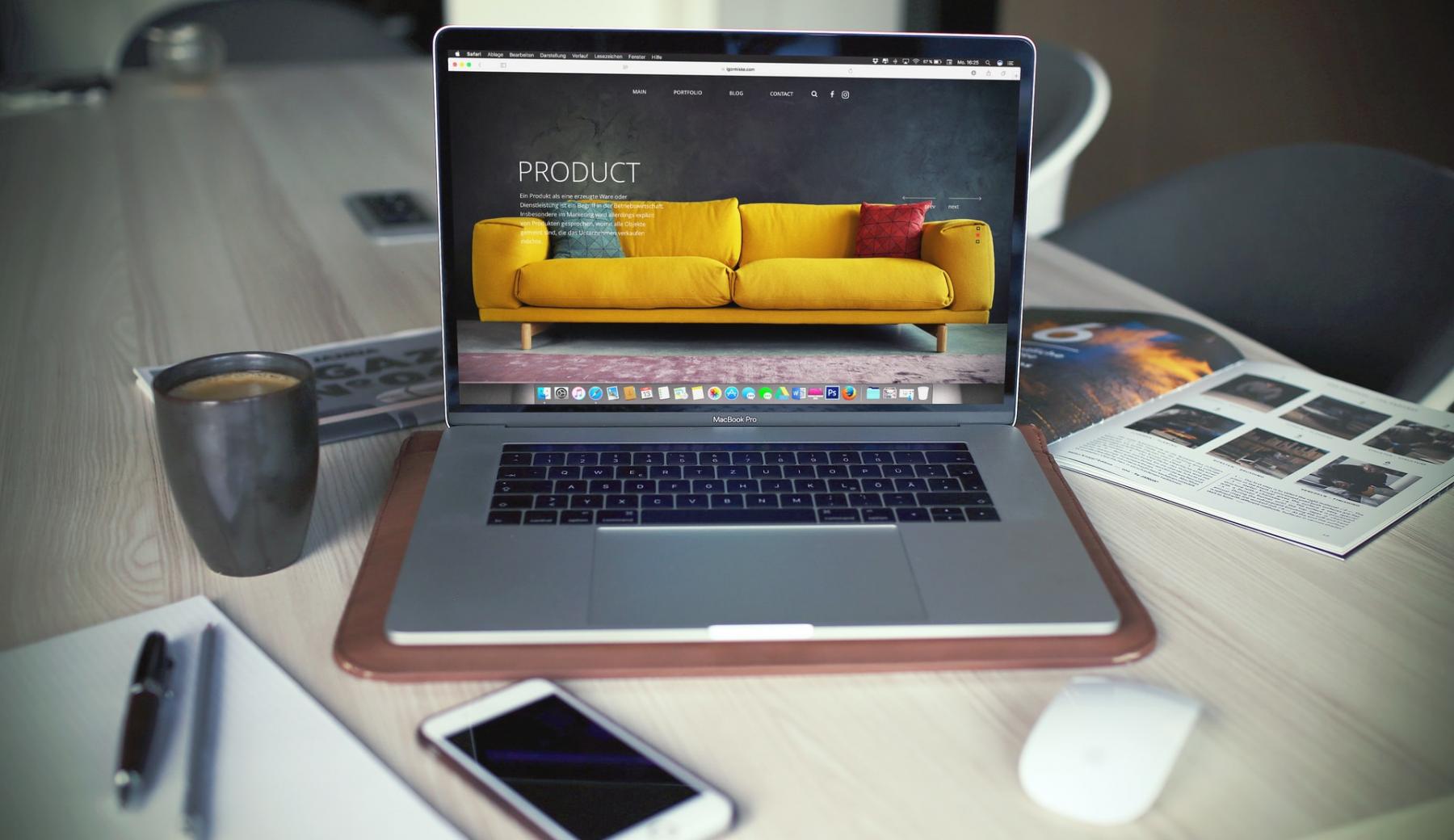 eCommerce team roles and responsibilities
Transforming your business into an eCommerce site by moving online to keep up with consumer spending habits has been made essential by the Covid-19 pandemic – if you don't have an eCommerce site, then you might be missing out on revenue. For businesses that need to move online quickly, we at Prosperity have drawn up some key industry insights and put together a list of the key eCommerce team roles needed for your business to thrive online in today's environment.
The growth of eCommerce in Ireland
Shopping online has grown continuously in the last decade, and in 2019, eCommerce sales in Ireland increased 13% and have more than doubled since 2010. This trend in eCommerce shows no sign of slowing - research company IBISWorld anticipated this growth would continue at a similar rate through until 2024, meaning huge potential for online retailers.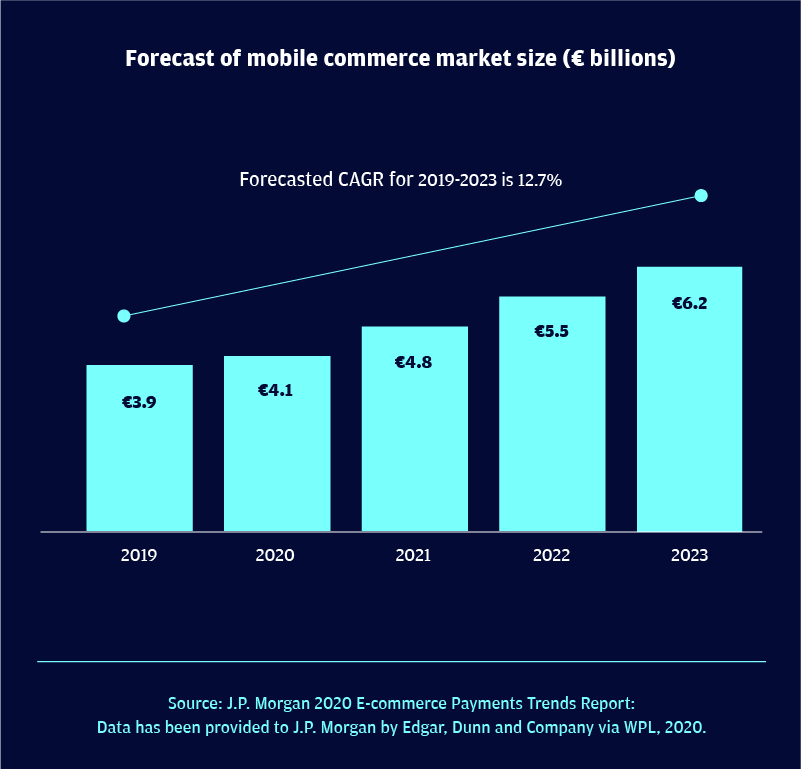 But the Covid-19 crisis has caused an unprecedentedly huge surge in online sales as people couldn't go to physical shops and were stuck at home during a series of lockdowns According to agency Wolfgang Digital, mid-April 2020 saw one of the busiest ever weeks for online retailers with  revenues up 185% compared to pre-Covid-19 levels. Even as the lockdown eases, sales remain 163% higher as people have become accustomed to online shopping.
Choosing the seven key eCommerce team roles your business needs
The scope of the eCommerce team you hire will depend on your company's size, the number of products, your goals, your budget and the skillset of current staff members. We have drawn up a list of key eCommerce job roles that you'll need to drive sales online, along with a brief description of their work for those who are new to hiring digital talent.
eCommerce Manager
SEO Specialist
PPC Specialist
Content Creator/Manager
Customer Support
Web Developer
Photographer/Videographer
eCommerce manager
For most businesses, this will be the primary leadership, strategic and decision-making role on an eCommerce team, and is likely to be a new, permanent member of your team.
eCommerce managers are responsible for overseeing online sales and marketing efforts, and usually have a big role in deciding and implementing the look, feel and branding of your website. They should also be familiar with brand and marketing strategies, as well as the various CMS (content management systems) and eCommerce site architecture available.
Your eCommerce manager will make recommendations on these according to your needs, scope and budgets, in addition to being responsible for your overall online sales and marketing strategy. For job postings for these important all-rounders to lead your online transformation, you'll find a detailed e eCommerce manager job description here.
SEO specialist
Search Engine Optimisation (SEO) professionals are in charge of updating your website and product pages so your store appears in as many Google results as possible. Think of them as the person that makes life easy for search engines to understand what your eCommerce site sells, and so makes it easy for potential clients to find what you're selling.
SEO specialists will conduct keyword research to make sure that your products match what people are searching for, monitor traffic and provide information on sales and interest trends, as well as performing technical SEO to make sure your eCommerce site is as fast-loading healthy as possible. They can also advise on relevant content to boost your page's rankings and authority.
SEOs are a valuable investment whose work provides a mixture of quick wins and long-term positive results for your eCommerce site. Their work should increase your store's visibility, traffic and sales, so take a look at our recommended checklist for SEO skills.
PPC specialist
If you're thinking of investing in a pay-per-click ad campaign (and you should be), then PPC specialists manage your advertising campaigns to drive conversions for your online store. They often work closely with SEOs to create search and display campaigns that make it easy for customers to find your project
This is a strategic role for detail-oriented professionals who like to constantly improve campaign performance to deliver great returns on your investment across platforms like Google search, Facebook, LinkedIn, Instagram and the Google display network.
Although many people launching eCommerce sites don't prioritise PPC initially, it's an investment than can power serious revenue, and a PPC professional is one of the most important eCommerce team roles for driving sales. When looking at candidates, you'll find a list of key performance marketing skills here to find the best fit for your needs.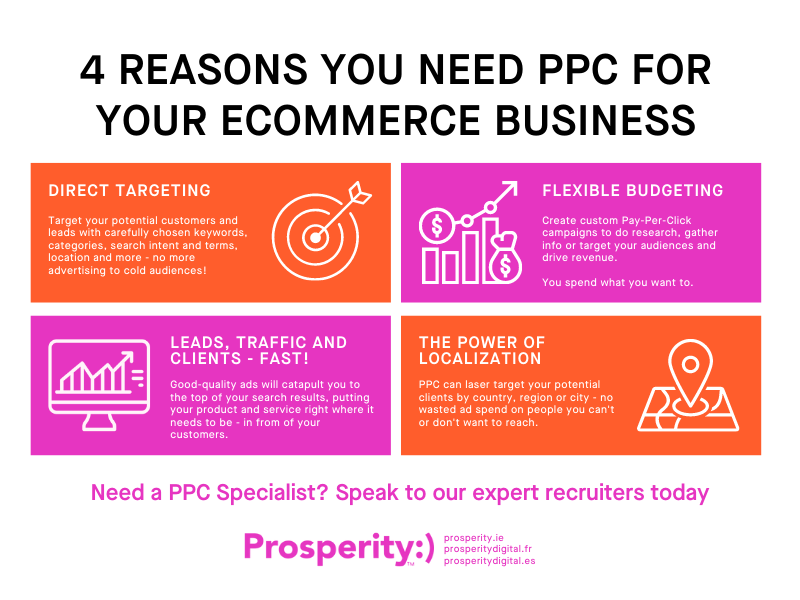 Content Creator/Manager
With an eye for detail, a gift for words and a mind for strategy, medium and large businesses will want a copywriter on their eCommerce team. These multidisciplinary professionals with closely with the SEO and eCommerce manager to shape the tone of voice for your company and create the material for you to market your products.
These hard-working individuals are the knowledge managers of your brand, writing copy that informs and sells the product to the clients, in addition to sharing articles about why your product is the market leader and deserving of people's cash. They also contribute to ad copy, email marketing campaigns and other PR materials.
A good content specialist covers multiple bases and – possibly more than anyone else on your eCommerce team – is the professional that is most influential in helping you find your niche in a busy eCommerce market.
Customer Support Specialist
You've launched your eCommerce site, and clients are now finding your products easily thanks to your SEO and being sold thanks to your excellent copy. Now, customer messages and enquiries will start flooding in by email, chatbot and social media and you need an agile professional to manage them with confidence.
Nowadays, customers expect fast answers to their product queries that can make or break a sale, and want issues and returns to be resolved ASAP – or they'll take their business elsewhere but leave you a less than flattering review.
Customer support specialists are the key to making sure that your potential clients feel looked after and provide that important human touch. And when things go awry, their responsibility is to make get things back on track quickly, and enhance your reputation for outstanding customer service.
Web Developer
If you're a small business with a few products and are happy using an out-of-the-box eCommerce solution, then you probably don't need a webdev. When things scale up, however, it's time to give this position some serious consideration – nobody wants to shop on a website with errors, or lacking security certificates or with poor customer experience.
Investing in a good web developer (whether in-house or freelance) will ensure that your search and payment systems are secure and functional, increasing customer confidence in your website. They'll also be able to advise on the most seamless shopping experience and have the knowledge to implement the additional functionalities your eCommerce site offers without breaking it.
Maintaining and updating a medium or large eCommerce website is a full-time job that is essential to ensuring customer confidence and driving return traffic, and a quality web developer is key to your website's ongoing health and functionality.
Photographer/Videographer
If you're selling a broad range of products to a variety of customer personas, a photographer or videographer will transform the way you showcase your products and how clients and customers interact with them.
High-quality product images are essential for online sales - in store, consumers can see and touch your products. Online, they want to see your product in its best light and see how other people might use or interact it before buying it themselves. Video content is king right now, and investing in this resource and publishing it with a solid content strategy can drive incredible sales.
Your suppliers might have high-quality product photos for you to use, but for real creative control over your brand and products, investing in a reliable photographer or videographer is a key step to setting your eCommerce site out from the rest.
How to set up an eCommerce store
For small businesses, Local Enterprise Offices are providing Trading Online Vouchers of €2,500 to cover 90% of the cost of setting up an eCommerce website, which is a real boon for any SME. For bigger companies, Enterprise Ireland is offering up to €40,000 to cover 80% of the cost of launching an online site to power their sales and revenue. These schemes encourage businesses to outsource their store set up. However, two points are worth noting:
Enterprise Ireland grants may contribute to the salary of a project manager to lead the creation and launch of new eCommerce sites.
These grants can also help fund training and upskilling for current staff members to manage the eCommerce site once live.
These grants are a great boost for a company looking to start trading online and shore up their revenues. However, just as with physical sites, eCommerce websites need on-going maintenance and operations with reliable and knowledge expertise to hand, whether this is managed in-house, via an agency or on a freelance basis.
Build your eCommerce team
Prosperity Recruitment has been helping clients assemble eCommerce teams since the early days of the internet, and our specialist recruiters can advise on salaries, trends, skills, job descriptions and more in this exciting area of growth.
If you're looking for help to build out the ideal team of professionals to design and launch your eCommerce website and drive the sales and revenue you need, contact Prosperity Recruitment today.