How to identify the types of UX experts you need, and where to find them
Before hiring a UX professional, there are several things you should consider doing. Below you can find a comprehensive Q&A offered by Prosperity on how to start the search for a UX expert that will help you achieve your business objectives and deliver the best possible experience to your users and customers.
Firstly, you need to specify your current needs. To begin with, ask yourself some questions - what kind of challenges you are facing, what you are building and where you are in the process?
Being able to answer these will facilitate the hiring process and navigate the selection of the perfect candidate.
1. Are you launching a completely new product and need to comprehend the competitive environment in order to ensure that it will meet people's requirements and goals?
If so, this one is for you. In such case, you will need someone who can assist you with research and can create a compelling portrayal of your audience, ideally someone with an expertise in user research and usability.
2. Do you require assistance in determining the design and organizational structure of your new application's features and functions?
If that is your case, you should probably look for someone with experience in interaction design and information architecture.
3. Are you an established brand that must provide your developing customer base a contemporary digital presence?
If you do have a brand with an already existing, prominent audience, you will benefit from having team of gifted graphic designers who are conversant in the most recent trends and best practices.
You might have read the above advice and thought you are not exactly sure about what you require. Or perhaps, you are juggling several projects at once and are having trouble deciding who would be the best to start with. In that instance, we advise hiring a senior UX specialist with knowledge of developing closely collaborating teams and formulating project strategies. The competent UX expert can assist in selecting the appropriate issues to solve and in outlining precisely the procedures, products, and personnel required to bring you where you want to go!
UX/UI Designers, professionals in high demand
Be aware that you are not the only one trying to employ a UI or UX Designer. True specialists are still in great demand in the market, even though more individuals are becoming professionals in the area.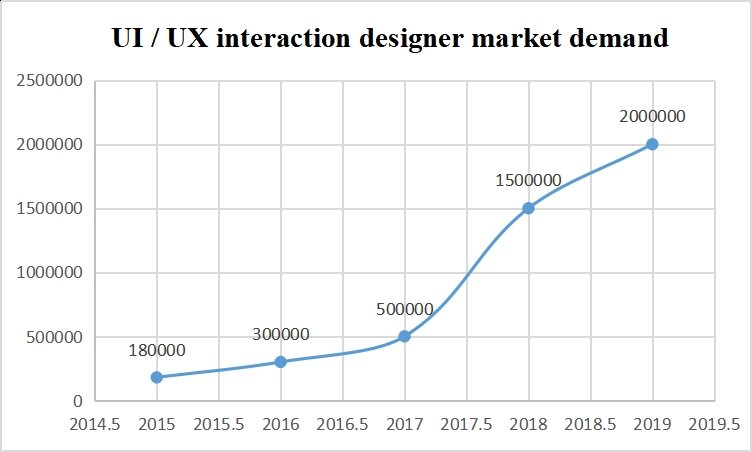 Increase in demand for UI and UX Designers between the years 2015 - 2019. Source: ResearchGate.
Knowing your company's demands when selecting a designer is one of the most crucial factors. You should also seek for professionals that have a defined strategy for executing, step by step, toward the business goals their work is applied to.
Finding the sweet spot between technical skills and soft skills
At Prosperity, we believe that it is not necessarily about the skills or even the experience, but about understanding of the business and its needs. You want to look for candidates that have a solid comprehension of how to carry out the objectives.
Technical proficiency, expertise, and experience are very important, however, while looking for talent it is also important to study the candidates´ behaviors, spot trends, and then consider their personalities to see how they would fit with your team and client base.
Ultimately, you would like for the top UI and UX professionals, just as much as any other employees will enhance your company's culture.
While working with many professionals from the field, as well as hiring consultants, we often see that recruiting managers frequently place too much emphasis on technical proficiency and often result in employing people who undermine the team.
Technical knowledge is crucial; however, it is also important to remember that so is personality and being able to fit well within the team.
Conclusion
A bit of organisation before starting your hiring process can go a long way for your success. Being aware of the peculiarities of this market, the aspirations of the professionals, the specific needs of your company, and the competition you have for the talent, should help you into landing the perfect UX/UI designer for your team.
---
Sometimes hiring a UX/UI Designer can be too much to ask for your company. If that's the case, don't hesistate to get in touch with us at Proseprity, we are the top recruitment agency for UX/UI profiles in Europe.