Recruitment processes usually last between 3 and 4 weeks, however, the period can be shortened or lengthened depending on the urgency of filling the position or the number of candidates. In this article, we tell you about the stages of the recruitment process and how to make them more efficient to save resources and time.

In the digital sector, it is very rare for a recruitment process to have only an interview phase. There's usually a task and a cultural fit to consider as well. Image source: 20th Century Fox
Sometimes the vacancy is filled by a person who is recommended, which is the most common option in most companies with modest recruitment needs.
When recruitment needs are greater, the company will likely need to establish processes to be able to fill vacancies effectively. The selection process must go through several stages to find the right candidate. We cannot forget that during recruitment the company is investing resources (material and human), so it is essential that the process is fast and effective.
Phases in the Recruitment Process
Most companies, when they are looking for a candidate for a position, whether it is a replacement or a new vacancy, try to fill it by internal promotion or by searching their network. In fact, networking is one of the biggest forces driving hirings around the market, some studies estimate that networking is the biggest channel to acquire talent, claiming that up to 85% of the jobs are filled via networking.
If there is no one suitable for the position in your network, the external search begins, which is what we call the Hiring Process and usually goes through the following phases:
1. Search - The job description
In this first phase, the first thing to be done is to draw up the job description of the vacant position, defining the tasks that the worker will perform in that position, as well as the competencies and skills that the candidate will have to have. The remuneration and the rest of the working conditions of the offer will also be included. This part is much more important than you might think, and the person or people who do the job description must spend some time determining the skills and responsibilities of the position, the level of seniority, who the person will report to and, above all, the salary range.
Job Description writing is a craft that needs training and experience, we at Prosperity offer job description templates for a wide variety of positions in the digital space for everyone to use. Since we've been 20+ years writing them, it is fair to say that we know a thing or two about job descriptions, so we thought we might as well help others offering our job description templates for free.
Once the job offer is defined, it will be published on job portals, in the press or on social networks. Another way to manage the offer is through recruitment agencies that will have a database of potential candidates that fit the position or they will carry out a professional search with other tools at their disposal to find the right person.
How to make it more efficient:
Invest time in making a good job description.
Don't ask for all the skills you can think of for the candidate, focus on the essential skill that are key to be successful in the role.
Choose one or two specific portals or job boards to target the perfect candidate.
If you use a recruitment agency, do some research to understand the one that best understands the profiles you are looking for.
2. Shortlist - Choose the candidates
Once applications have been received for the position to be filled, a pre-selection is carried out in which the CVs of each candidate are analysed to check whether they are suitable for the position. This phase should begin as soon as the vacancies are published and you have started your search. It is a mistake to wait for candidates to arrive until the offer is published. If they are looking, likely, they are also applying for other vacancies. In the digital sector, this is a common problem, as there is a lot of demand and it doesn't take long for candidates to find a job. For example, in Ireland it is well known that candidates in the digital sector don't last long in the market. Every year more tech and digital jobs are added so the demand for talent increases.
How to make it more efficient:
Start contacting candidates you are interested in from day one to arrange an interview.
If you have between 3 and 5 candidates you like, call them all for an interview.
Give them a choice of days and times.
Answer any questions they may have before the interview.
3. Interviewing - The most important part?
One of the most important phases of the selection process is interviewing candidates. They are usually conducted individually to assess each candidate's motivation, skills, experience and training, although group dynamics can also be used. Sometimes there are also tests of specific technical knowledge that are important for the company. This is probably the most important part of all, you are halfway through, you have a few candidates to chose from, and need to sharpen your intuition to understand wich one will be the best fit for your company.
Nailing face-to-face interviews, either in-person or via video-calls, are probably the moments where more things can go wrong, as more variables that you can not control will come into play. Be prepared to offer a good interviewing experience so at least no candidates are disappointed with you, longer process won't necessarily help with that.

From writing the job description to choosing the right candidates to shortlist, the recruitment process can be streamlined to improve the experience for the company and the candidates. Image source: NBC
How to make it more efficient:
Try to limit the number of interviews a candidate should do to no more than 3 in total.
Avoid knowledge tests and tasks if possible, candidates are often not motivated to do this- especially more experienced candidates.
Limit the number of people who should assess the person to a reasonable number. Two or three are ideal.
Try to do all interviews within a week at most. Avoid dragging out the process.
4. Offer - The moment of truth
With the information from each candidate, a decision is made as to which person will fill the vacancy. At this stage, you need to invest the time necessary to make an objective choice, but it should not take more than a week for all the people involved in the decision. Think that your future employee may have other opportunities on the table, or may see that a company were making such a decision takes longer than desired is not the best place to work.
At Prosperity Recruitment we meet more often than we would like clients who take longer than we would like to decide after the interview phase is over, and by the time they react it is too late. Usually, the candidate has already chosen another company or has lost interest. This is particularly serious if the market in which you are looking for employees is competitive and talent is hard to find. You have to act fast.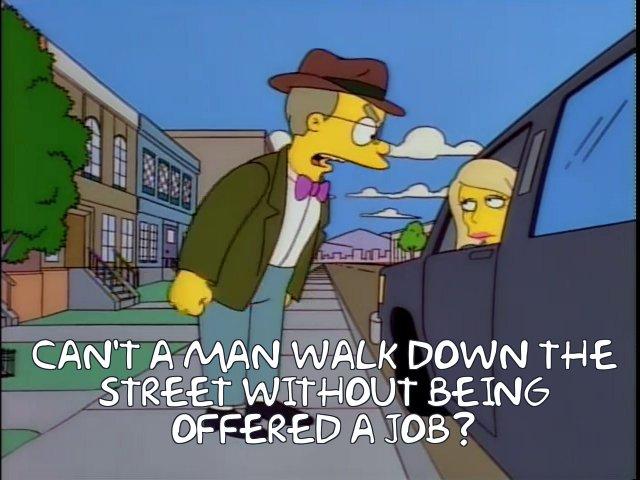 In a candidates market, there are probably multiple offers at the same time so it is imperative to act fast and produce an attractive offer to ensure you get the best candidate for the job. Image source: 20th Century Fox
How to make it more efficient:
Once you know you have found the right person, don't take more than a week to make the offer.
Prepare an attractive offer that doesn't just talk about salary. Point out the qualities of your company, the development prospects and the joy of having this person on your team.
Prepare a plan B in case the candidate does not accept the offer. Either you have to have another person in the rearguard or you have to be agile enough to start the search again.
Conclusion
As we have seen, hiring processes can be simple or complex depending on several factors and optimising these processes can mean choosing the right candidate and saving a lot of resources and time. It is important to sit down and think about the stages we want it to go through, the people who will be involved, and who will have the final say.
---
If you are looking for digital profiles for your company, and your search has not been fruitful, do not hesitate to contact us at Prosperity Recruitment through this form and we will contact you as soon as possible. We are experts in Digital Marketing, UX/UI Design, Programming, SEO, PPC and more.