Attracting quality talent to your company is essential for its growth and success. However, the process of finding and retaining the right employees can be challenging. It all begins with crafting an attractive job specification that captures the attention of potential candidates and entices them to consider joining your organisation.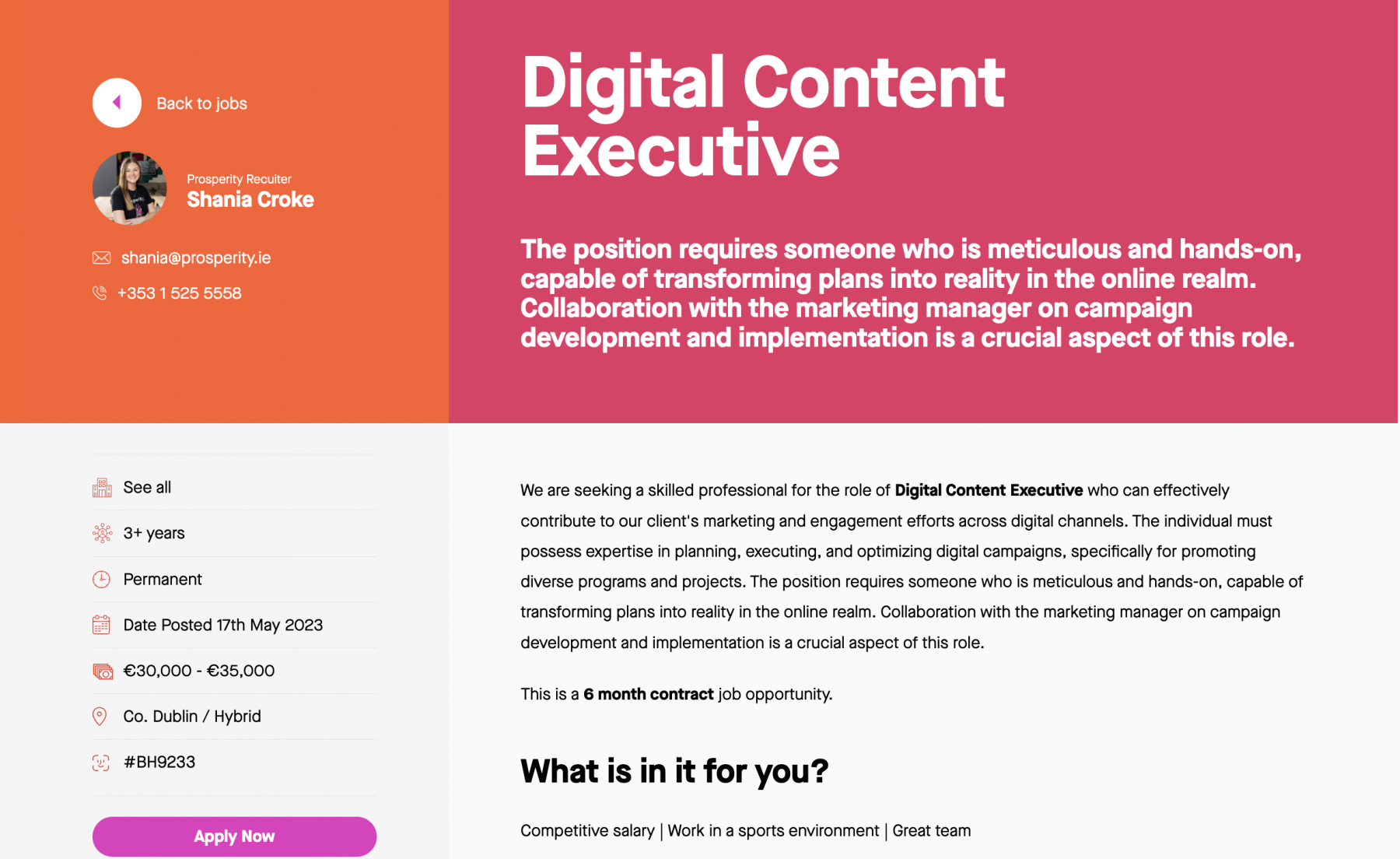 An example of a job offer published by Prosperity.
A well-written job spec not only helps in attracting a larger pool of applicants but also sets the stage for a successful recruitment process. A job description serves as a roadmap for both the employer and the prospective candidate. It outlines the responsibilities, qualifications, and expectations associated with the position.
In this post we tell you how to write an attractive job offer that will attract a vast pool of candidates according to recruiters with more than 20 years in the industry.
What are the must-haves of a job specification?
The initial interaction between a candidate and your company often takes place through a job specification, which serves as the first impression and should effectively convey your expectations. The essential components that should be included are as follows:
Attractive title
This one is often overlooked but, in the world of search engines, the job title is the most important factor that will make your offer to be found on the internet or job boards themselves.
To create an eye-catching and compelling job title, it is important to identify relevant keywords that are related to the specific vacancy and the category in which the candidate will be placed. According to Gary Mullan, General Manager at Prosperity and a recruiter with more than 25+ years experience, "companies sometimes add complexity to the search process by using job titles that are difficult to understand for people outside their organisations. That might put off relevant candidates that otherwise would be perfectly suitable for the job, as the title is usually how candidates filter up job offers. As a rule of the thumb, it's a best practice to simplify your job titles as much as possible following the broader category".
You can find inspiration by researching similar job offers posted by other companies on platforms like LinkedIn or specialised websites. Analyse how they structure and word their job titles to attract attention. By incorporating these insights, you can enhance the wording of your own job title to make it more engaging and appealing.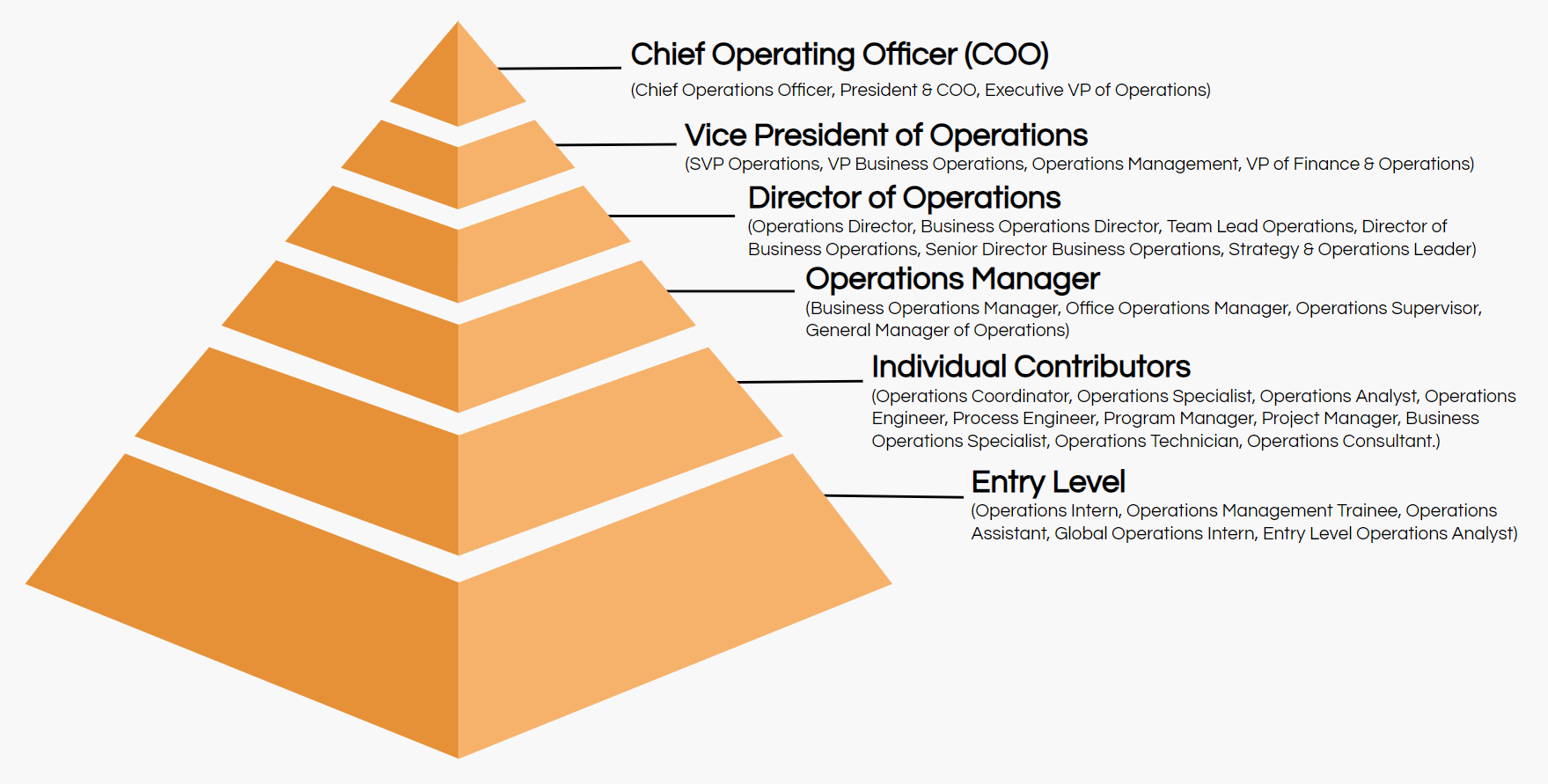 Job Titles: The Definitive Guide. Source: Ongig.
If you still have doubts, you can use keyword research tools such as SEMrush, Ahrefs or even Google Trends to help you find out what titles candidates search for more. For example, if you doubt between two or three options you will see an estimation of search volumnes for each title. Here's an example with some of the roles within the digital agency environment.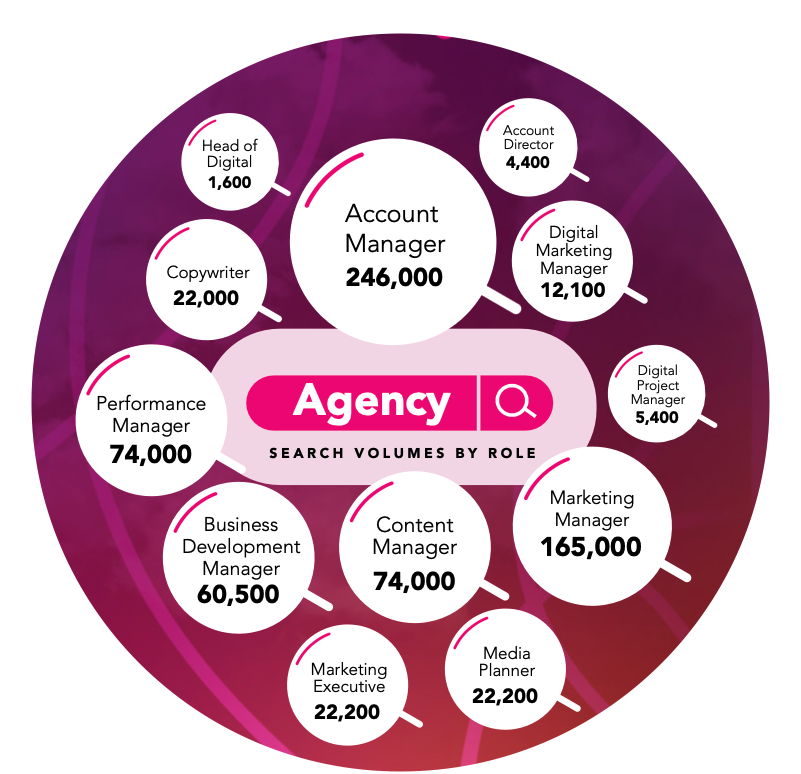 Digital Agency job titles by search volumes via SEMrush. Infographic by Prosperity Recruitment
Benefits
According to Indeed, 25% of recruiters say that benefits are one of the most important parts of a job description. Is in this section where candidates will try to find out what's in it for them, besides the salary. How is your company culture like. Is your company offering health insurance, how many vacation days, and so on. Here your company should make an exercise to understand why would someone like to come to work with you on its own merits.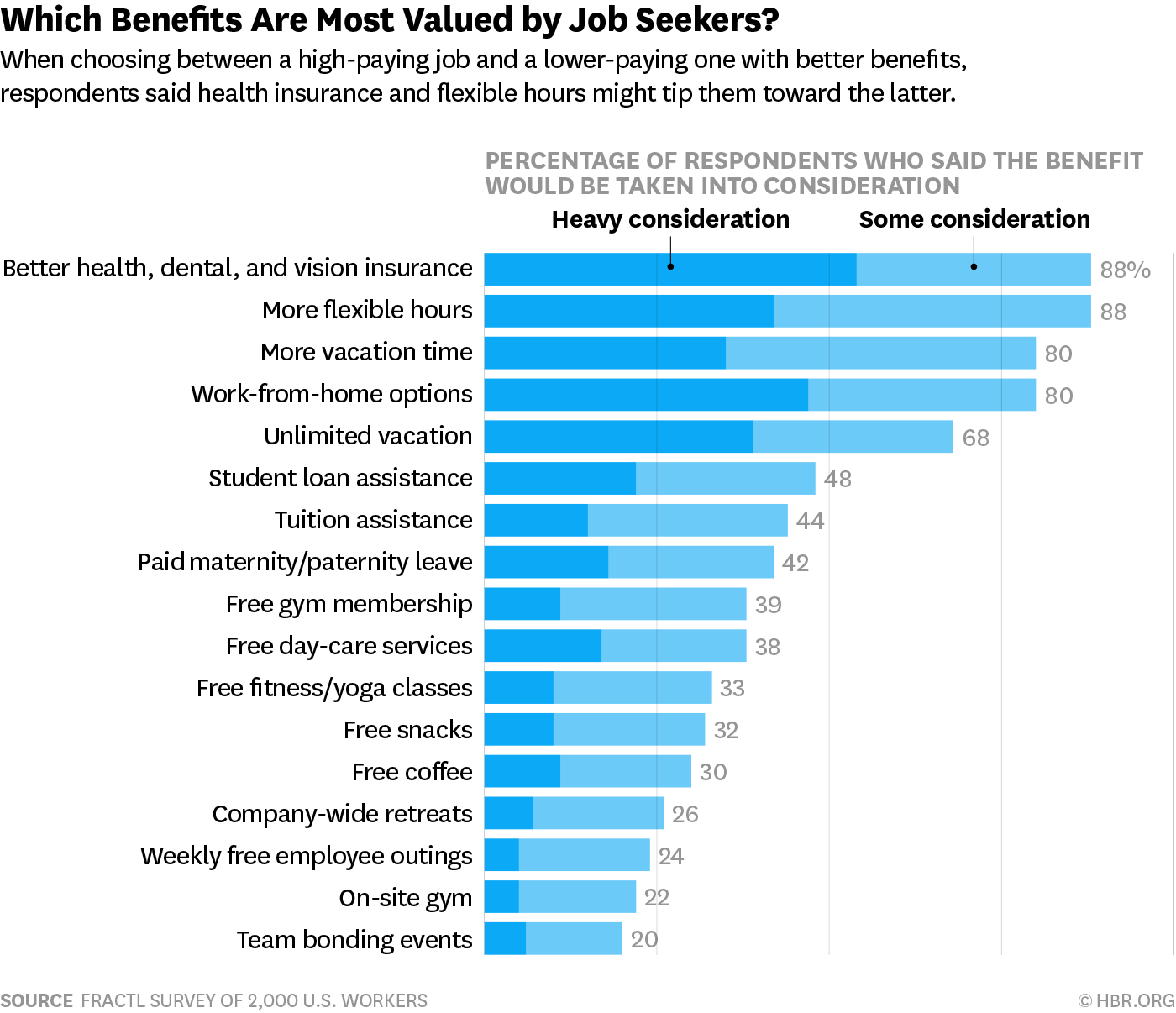 The Most Desirable Employee Benefits. Source: Harvard Business Review.
Providing comprehensive benefits to employees is paramount in today's competitive job market and plays a crucial role in attracting, engaging, and retaining top talent. Moreover, as discussed by Forbes, benefits also impact productivity and engagement of employees.
According to Elisa Barnett, Head of Talent Operations at Prosperity "These benefits serve as a powerful tool for organisations to demonstrate their commitment to employee well-being and create a positive work culture. It is not only about salaries in the current job market, but also about flexibility, internal promotion and the possibility of remote work, among others."
Working conditions
it is important to outline the working conditions to provide a comprehensive understanding of the position, specially regarding the company policy around remote work. "The majority of candidates we interview ask this question. They want to know outright the working arrangement the company follows. I've done literally hundreds of screens this year and it saves everyone a lot of time if all this is clearly specified in the job description. It's a win-win for everyone" considers Ciara Dunne, a senior recruiter specialized in Digital profiles for the Irish market.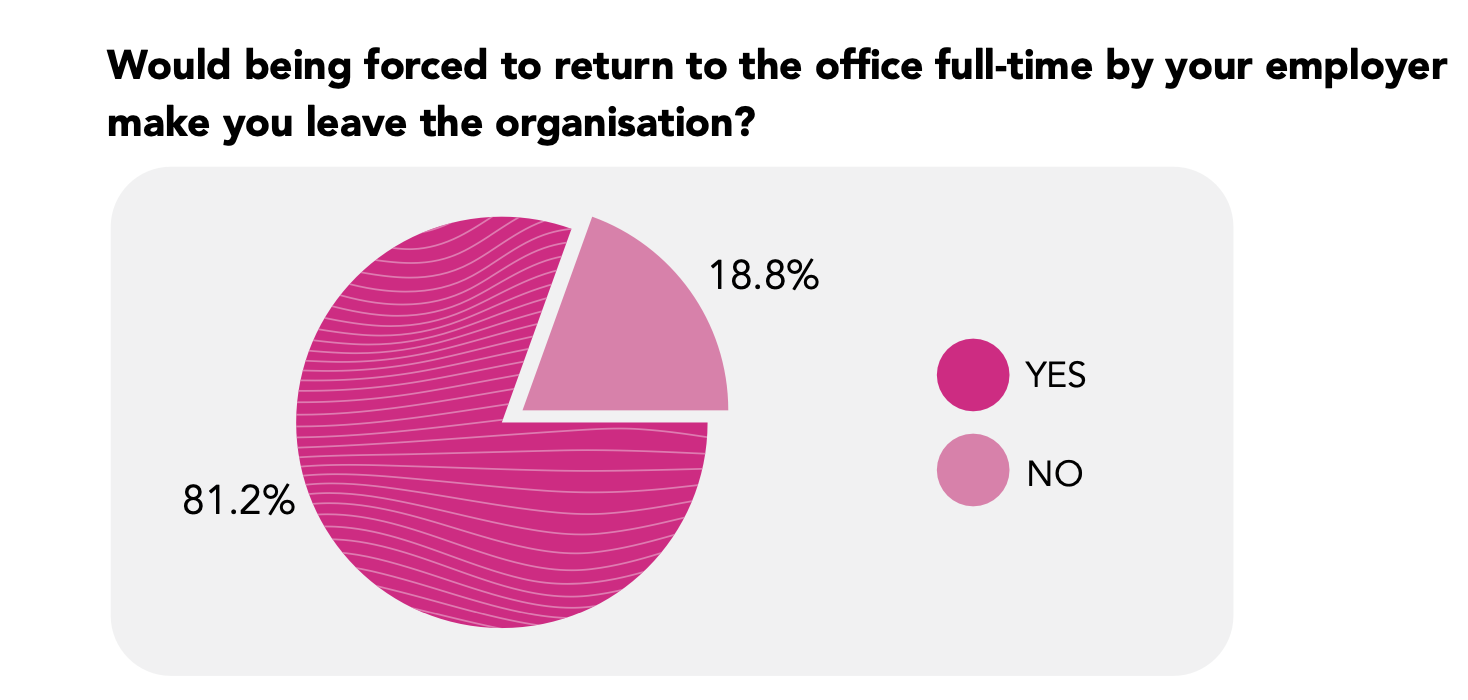 If you want to attract candidates in the digital space, beware of just offering a full-time office working arrangement. According to our recent survey on more than 1000 candidates 81% claimed they would leave their organisations if they were made to return to the office full-time. Source: Prosperity Recruitment Salary Survey
This includes specifying the company's policies regarding working hours, such as whether it follows a fixed schedule or offers flexibility in terms of remote work or alternative work arrangements. Furthermore, highlighting the company's culture, values, and any unique features of the work environment can help potential candidates gauge their compatibility and make an informed decision about the position..
Description of the job offer
A comprehensive job description plays a crucial role in a job ad as it serves multiple important functions. Firstly, it helps to attract and engage suitable candidates by clearly outlining the position's requirements, responsibilities, and expectations. A well-written description enables potential applicants to assess their own qualifications and determine if they possess the necessary skills and experience to succeed in the role.
This is the part where companies almost always use bullet points to make it clear what the job is about, and what are the skills needed for it. Bullet points are probably not the best literary device but in that case they help the reader a lot by giving a list that's easily scannable within seconds, and that will make it possible for them to understand if the job suits their skills.
According to Mathilde Renaud, a recruiter specialized in the French Market at Prosperity Digital, "Bullet points are great as in they provide a respite to the reader, who after going through long intros can now find out what's exactly that the company is looking for skills-wise in a very short time, and decide if the want to continue reading or not. It's also good for us recruiters too, as we can understand what the company is really prioritizing in their search."
An accurate and detailed job description reduces the likelihood of misunderstandings or misalignment between the employer and candidates, ensuring that only those genuinely interested and qualified for the position apply. This ultimately leads to a more efficient recruitment process, saving valuable time and resources for both the hiring team and the applicants.
Company details
Job descriptions tend to sound alike when you read more than 10. This usually happens to candidates when they are looking for a job so it's important to take the time to actually give some personality to your copy.
Craft a brief yet captivating description of the company, encompassing its background, culture, values, and the potential working environment for prospective candidates. Avoid duplicating the content from the "About us" section on your website and instead provide a unique perspective. In order to make it more personalised, you can consider describing a typical day at your company, to give the candidate an insight into the environment they would be in if they were to join the company.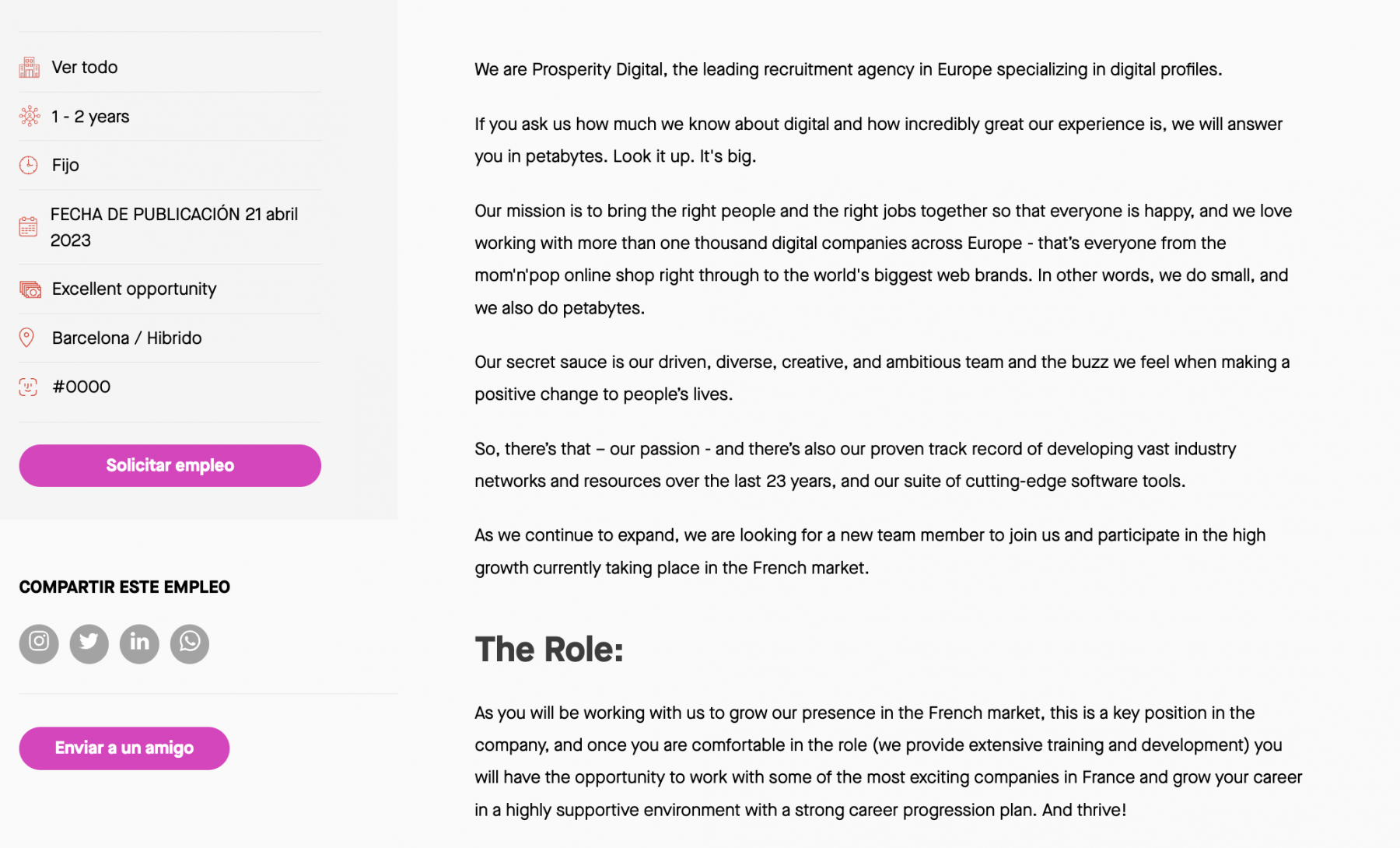 Example of a company description from a Prosperity's job specification. Source: Prosperity Digital.
Takeaways
Creating an attractive job offer is a crucial step in attracting quality talent. By incorporating an eye-catching job title, highlighting comprehensive benefits, outlining working conditions, providing a detailed job description, sharing captivating company details, and including clear contact information with a compelling call to action, you can create a job offer that captures the attention of potential candidates and entices them to consider joining your organisation.
Remember, a well-written job offer not only attracts a larger pool of applicants but also sets the stage for a successful recruitment process, ensuring that you find the perfect candidate who aligns with your company's culture, mission, and expectations.
If you require assistance in your talent acquisition efforts, our team at Prosperity is only a message away! Should you have any questions, we are always happy to help and provide our expertise.
---
Prosperity
If you want to know more about the recruitment process at Prosperity get in touch!
Moreover, if you are looking for guidance on salaries, download our 2023 Salary Survey!