In recent years, Ireland has become a popular destination for workers from abroad, thanks to its attractive job opportunities and excellent standard of living.
The country's tax incentives system benefits companies and gives big tech corporations access to the European market, making Ireland a major player in attracting talent.
Moreover, Ireland offers a relatively easy process for obtaining the necessary documentation, making it simpler than other European Union countries. Despite the comparably straightforward nature of the process compared to other nations, both companies and candidates encounter challenges in comprehending its intricacies.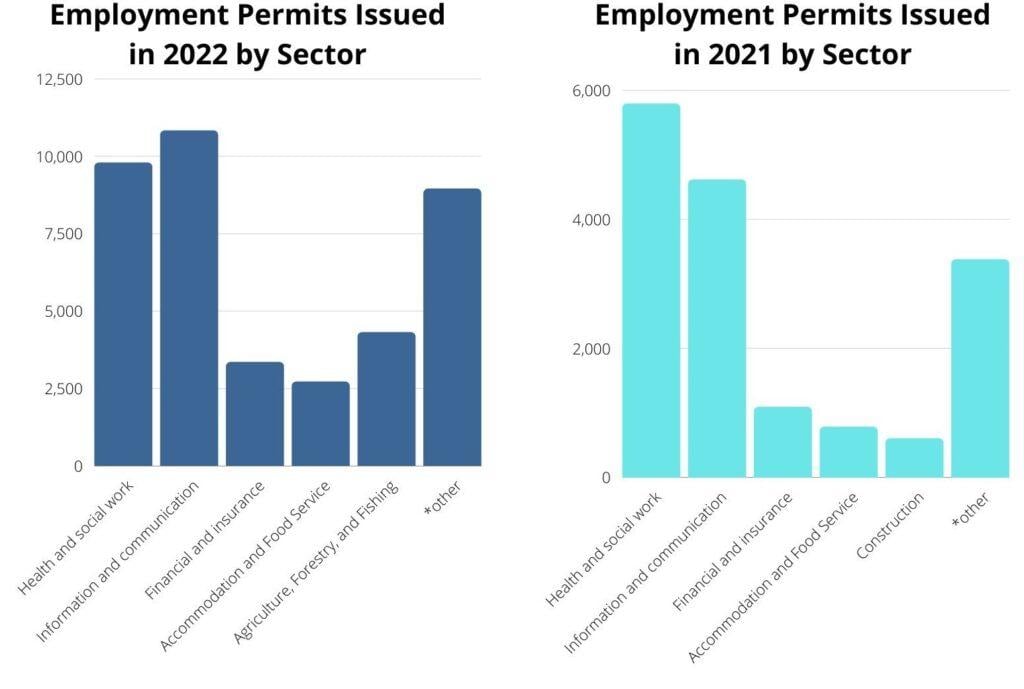 2022 Employment permits statistics published. Source: The European Migration Network.
For a start, it is not uncommon to mix terms up in the whole Sponsorship topic. For instance, people tend to use the term Visa Sponsorship while referring to Work Permit Sponsorship. Visas are something that only the workers can apply to and can't be sponsored by companies. Meanwhile Work Permits are that actually the processes that can be sponsored by companies. It's important to understand possible confusion.
For the purposes of this blog post we will deal with the most common use cases where companies can sponsor work permits in Ireland and discuss the General Work Permits in Ireland, as well as the Critical Skills List.
What is a General Work Permit in Ireland?
Employment Permits in Ireland do not need to cause fears in companies, but at the same time, they need to be attended to carefully. The government offers clear guidelines into what are the requirements and what type of professionals can be sponsored.
How to get a work permit sponsorship in Ireland
One of the utmost experts in the matter, Emma Richmond from Whitney Moore, a leading law firm providing employment and immigration services in Ireland, breaks some of the myths and misconceptions around the work permit sponsorship options. Emma's has helped countless companies and employees successfully navigate it.
In a recently hosted session devoted to this topic she summarized the most important points for companies to know. You can watch it here:
Or you can keep reading. We have made the effort to capture the basic and most important points, both from Emma's interventions and our own research and experience on the matter.
At the bottom of the page, you will find a FAQ section with the most common questions asked by our clients and answered by Emma herself.
Even from a candidate's perspective, these answers can be useful to help your prospective future employer.
Ireland Critical Skills Work Permit
In recent years, Ireland has adopted an open policy towards migration, actively encouraging workers from both within and outside the European Union to contribute to its economy.
One highly sought-after option for foreign workers is the Critical Skills Work Permit, which not only provides valuable job opportunities but also offers a potential pathway to citizenship, benefits for spouses or partners, and immediate eligibility for permanent residency.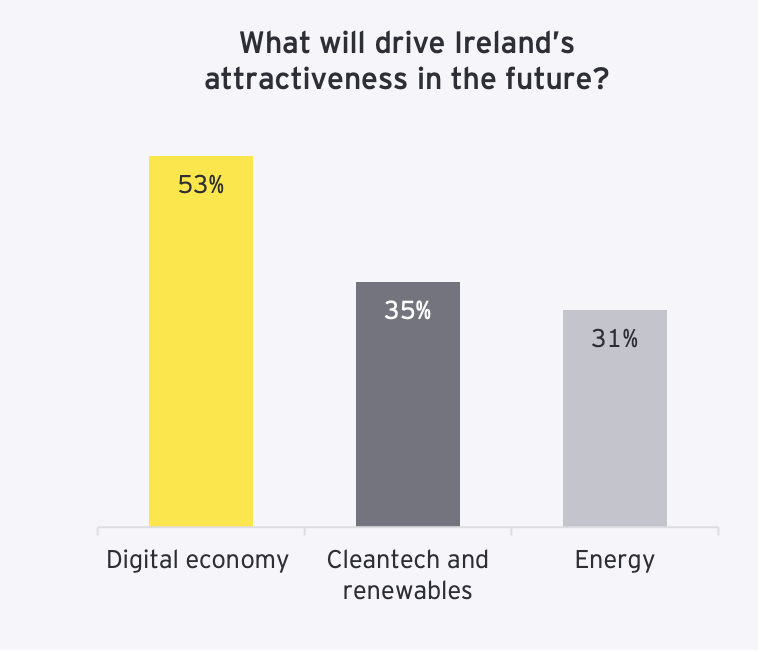 EY Atractiveness Survey - Ireland. Source: EY.
To qualify for a Critical Skills Work Permit, the job must be listed on the critical skills occupation list and have a minimum salary of €32,000. This program aims to attract individuals with specialized skills that are in high demand in the Irish market.
Range of Sectors Covered by the Critical Skills List
The critical skills occupation list encompasses various sectors, including professionals from fields such as engineering, healthcare, and IT.
In collaboration with clients, it is crucial to carefully review and tailor job specifications to highlight the elements that align with critical skills criteria. While certain marketing roles, for instance, may not be initially eligible for a critical skills work permit, emphasizing aspects like digital marketing, website management, or design can enhance the chances of obtaining the permit.
To determine whether a job falls within the critical skills category, reference must be made to the critical skills occupation list and the ineligible list. These lists, available for download from the Department of Enterprise, Trade and Employment, are regularly updated every six months. The government engages in a consultation process with employer representative bodies and industry practitioners to ensure the inclusion of relevant occupations and skills.
It is essential to stay informed about any changes to the lists, as roles can shift between the eligible and ineligible categories.
Other Work Sponsorship options
In addition to the Critical Skills Work Permit and the General Work Permit, Ireland provides alternative options for individuals whose roles do not qualify under these permits.
One such option is the Intra-company transfer permit, which allows employees to be transferred from a company's overseas branch to its Irish branch. This permits companies to bring in skilled workers from abroad to contribute to their Irish operations while providing unique opportunities for individuals to work in a new country.
Atypical permission
When recruiting candidates from outside the European Economic Area and applying for work permits in Ireland, employers face a certain level of risk. While investing in the recruitment process for non-EEA candidates through work permit applications carries some uncertainty, there is also the possibility of finding qualified candidates from other employers.
In addition to work permits, it is important to consider another type of permission known as atypical permission, which is an immigration permission rather than a work permit. This permission is applicable when relocating an employee from another company or client to Ireland for a period of fewer than 90 days.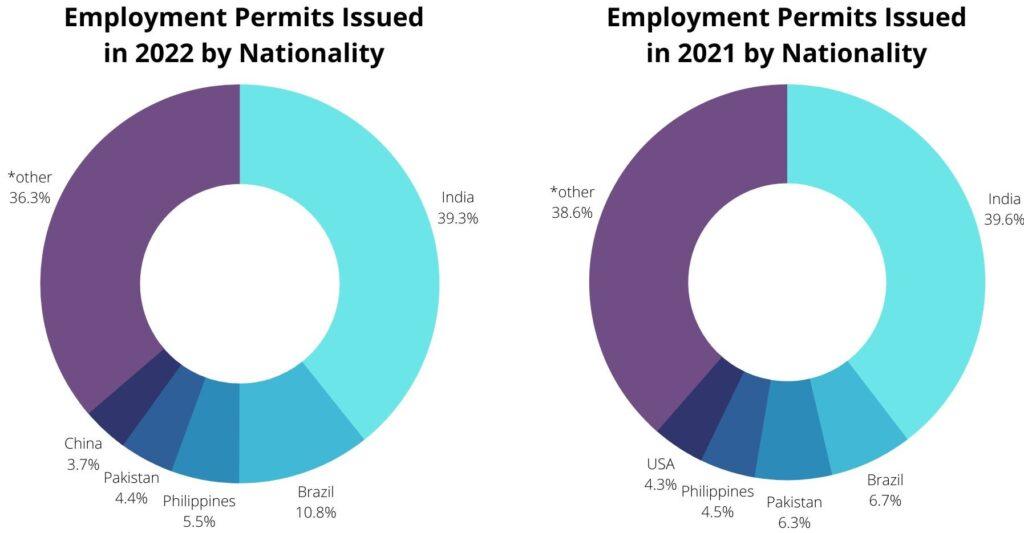 2022 Employment permits statistics published. Source: The European Migration Network.
It is worth noting that individuals from outside the EEA are not entitled to work in Ireland, even for a short duration, without some form of work permission. Therefore, the atypical permission may need to be considered for activities such as attending conferences or meetings. For businesses facing the challenge of recruitment, it is advisable to consult with experts and explore options early on.
Associated costs and waiting time
When applying for a work permit in Ireland, there is a cost associated with the application. Currently, the fee for work permit applications is €1.000. However, if the application is unsuccessful, 90% of the fee is refundable, offering financial relief in case the permit is not granted.
The processing times have significantly improved compared to the past. Work permits submitted at the beginning of a given month can be processed between the second and third week of the same month. For both critical skills and general work permits, applications are being processed promptly although things might change during unusually high numbers of requests
It is important to note that there are specific requirements for general work permits, including the need to satisfy advertising obligations. These obligations involve advertising the role in three different locations, such as a jobs website for a minimum of 28 days, as well as in local and national newspapers.
The advertisements must include detailed information about the place of work, the salary, and the number of weekly hours. To avoid potential delays or complications, seeking early advice and assistance is strongly recommended to ensure compliance with all the necessary requirements.
FAQ:
If a role is not on the ineligible list and the salary is €64,000 or more, is it possible to apply for a critical skills work permit?
Emma Richmond: Yes, that is correct. You can apply for a critical skills work permit if the role meets the salary threshold and is not on the ineligible list. However, it is important to demonstrate that the applicant possesses the required experience or qualifications for the role. Typically, a degree qualification or significant experience in the field would qualify for a critical skills work permit.
In general, would the role of a product owner be on the eligible list for critical skills?
Emma Richmond: Absolutely, yes. The role of a product owner can be eligible for a critical skills work permit. It is crucial to emphasize the technical requirements of the position in the application. When describing the day-to-day responsibilities of a product owner, it is essential to provide detailed information since the person processing the work permit may not be familiar with the specific role. Highlighting the technical aspects and providing specific technical requirements can significantly enhance the chances of obtaining a work permit.
After two years of being on a critical skills work permit, does the employee's spouse also become eligible for a Stamp 4*?
Emma Richmond: Yes, that is correct. After two years on a critical skills work permit, the employee's spouse can also become eligible for a Stamp 4. Both the employee and their spouse's applications can be processed simultaneously, ensuring that they transition to Stamp 4 status together.
We had a critical skills application for a certain role recently, which was approved. Another employee in the same exact role applied using the same job descriptions, etc. recently and was refused on the basis that his role was not considered eligible. Any ideas on how to appeal this?
Emma Richmond: I would recommend appealing and providing additional details, especially emphasizing the technical aspects of the role. Sometimes it comes down to the individual processing the application and their interpretation. So it is worth appealing and getting a fresh perspective. There's no extra cost for appealing, and you will receive a refund even if the appeal is unsuccessful. So it is definitely worth trying.
Would it be helpful to reference the first approved application as a point of comparison?
Emma: Yes, absolutely. I would mention that you have another successful applicant in the same role who was approved based on the same category and criteria listed on the critical skills list. Using that as an example can strengthen your appeal.
*Stamp 4 grants permission to stay in Ireland for a specified period, subject to certain conditions. It is considered a reckonable residence when applying for citizenship by naturalisation.
---
Prosperity
If you want to know more about the recruitment process at Prosperity get in touch!