Did you know that in 2021 the recruitment for Digital Marketing professionals grew in double digits across Europe? That's according to the booming Jobs study by LinkedIn and, without a doubt, it is a trend that has continued to increase in 2022 and will continue in 2023. Since the pandemic, many professionals from other sectors such as real estate and finance have decided to take up digital marketing positions, refocusing their professional careers. But, what are the digital marketing profiles most in demand by companies and what salary do they receive? You'll find all the details in this article.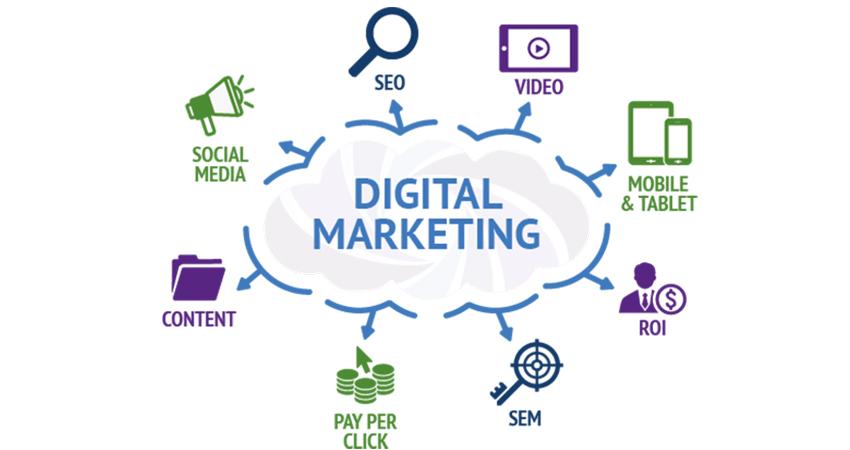 As budgets move towards digital marketing progresses, more disciplines and compartmentalisation will emerge. Source: Comunicare
Top 5 most in-demand jobs in Digital Marketing
1. Digital Marketing Manager
This person is responsible for the development, implementation and control of the digital marketing strategy. Among other functions, he/she carries out the following: development of online marketing campaigns, traffic measurement, identification of digital trends, SEO/SEM campaigns and web analytics. He/she must have a peripheral vision to act on all channels, it's most of the time a generalist profile. Sometimes you may be more focused on execution, sometimes on strategy, sometimes on creativity, but in general you will be asked to do a bit of everything as a Digital Marketer.
How much does a Digital Marketing Manager earn in Ireland?
Acording to the Prosperity Recruitment Salary Survey 2022, their salary ranges from 55,000 to 65,000 euros with 1 to 3 years of experience, 65,000 to 75,000 euros with 3 to 5 years and 75,000+ euros with 5 years or more.
2. PPC Specialist
This is the person in charge of executing paid campaigns on Google Ads, Facebook Ads or Amazon Ads, among many other programmatic advertising platforms. PPC Specialists execute advertising strategies, monitor the effectiveness of each action and measure the results following previously agreed KPIs. It's a hands-on role in general, but may require a relationship with agencies that take the reins of the execution as well as the creativity of the campaigns. It can also grow to become a PPC manager, which, depending on the budget, may involve having a team of PPC specialists in charge of different channels.
How much does a PPC Specialist earn in Ireland?
Salaries for this role start at 40,000 to 45.000 euros for professionals with 1 to 3 years experience, 45,000 to 50,000 euros with 3 to 5 years experience. It's not that common for an executive role like that the person stays for more than 5 years. The natural progress of the role, as mentioned above, should be to grow into a PPC Manager, which can start at 50,000€ according to Indeed salary information.
3. SEO Manager
This is the professional who deals with the positioning of companies in search engines, known as Search Engine Optimisation (SEO) Manager. Algorithms are constantly changing, so these professionals must updated their knowledge regularly so that the keywords for which the company achieves good rankings do not decline. This person must be proficient in both on-page SEO and off-page SEO. Certain technical skills are required also, such as knowledge of HTML, CSS or even Python. Technical SEO is an important part of this role, as this person must ensure that the site can be properly crawled by search engines, especially on high traffic volume sites where any change in algorithms can impact turnover. In general, the SEO manager is a more technical profile with managerial and executive skills.
How much does a SEO Manager earn in Ireland?
Their salary can range from 45,000 euros to 65,000 depending on experience. It's a position that can offer rapid growth, specially in large volume websites and/or ecommerce business with high traffic. See image below.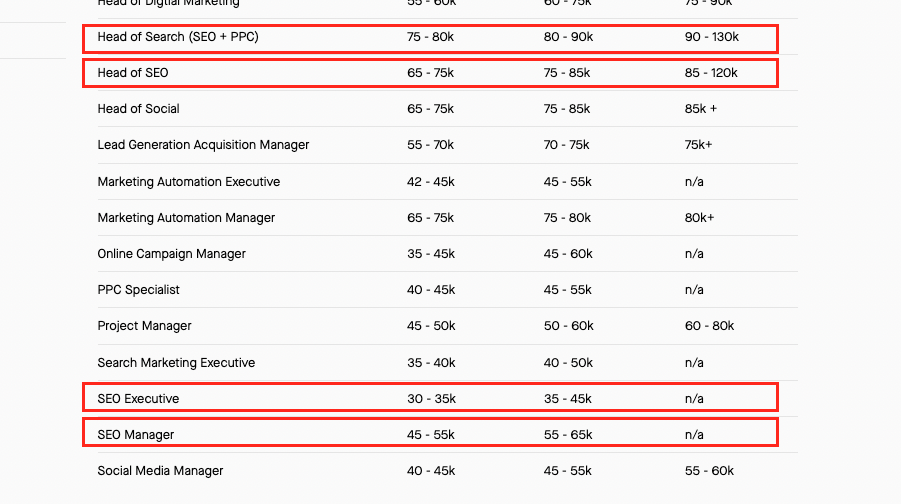 The next decade 2022-2032 will see the consolidation of some of these roles and the appearence of new ones as the industry matures. Source: Prosperity Recruitment
4. Social Media Manager
This is the person who creates, leads and often executes the company strategy for everything Social Media. It has a high creativity component. Social media managers are expected to be proactive and have a strong sense of branding. Keeping up to date with all the social trends is something you need to to be able to perform this role, which is key for many B2C companies targeting a mass audience. Keep in mind that Facebook has close to 3 billion users, and TikTok, Instagram or even Twitter set the pace of fashion and opinion. The goal in this role is usually to grow the channels in which the company has a presence and to bring the largest number of users into the company's sales funnel.
How much does a Social Media Manager earn in Ireland?
A salary for a Social Media Manager can range from 35,000 to 40,000 euros for professionals with 1 to 3 years of experience, 40,000 to 55,000 euros with 3 to 5 years and 55,000 to 60,000 euros for people with 5+ years of experience.
5. Marketing Automation Manager
Finally, among the most demanded profiles in digital marketing we find the expert in marketing process automation who's charged with, through various strategies and tools, to accelerating lead acquisition and customer conversion. In the last 3 years, the large adoption of CRM solutions in the market by thousands of companies in the process of digitalisation has brought to light the need for automation, especially in companies with a high number of customers to manage.
How much does a Marketing Automation Manager earn in Ireland?
The Marketing Automation Managers can command high salaries from an early phase thanks to high demand and scarcity present in the markte. Salaries can range from 65,000 to 75,000 euros with 1 to 3 years' experience, 75,000 to 80,000 euros with 3 to 5 years and 80,000+ euros with 5 or more years of experience.
As you have seen, all Digital Marketing professionals are important profiles as they will nurture the sales funnel. A good marketer can impact the business in a fundamental way, especially if they have the resources, autonomy and trust from their managers to bring out their talent. In general, all departments in a company relate to marketing, although you will typically work more closely with your UX/UI or Product colleagues.
---
If you want to explore more roles and salaries in the digital sector for these types of careers, here is the complete salary guide with all available ranges. If you are looking for a job in the sector, don't hesitate to look at the
job offers at Prosperity Digital. Our clients range from the most cutting-edge startups to the most established companies, so sign up and receive job offers in your inbox every week.