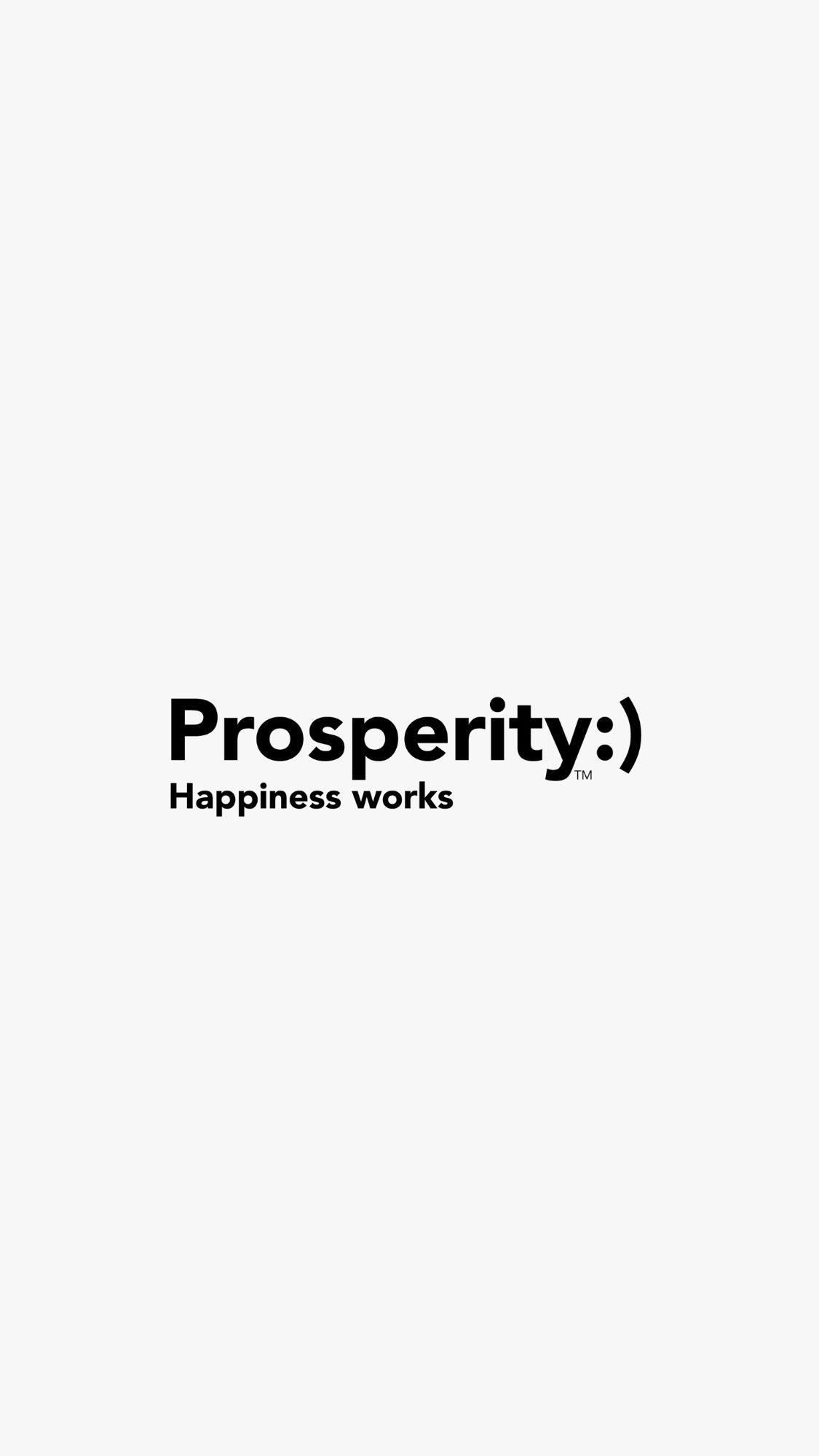 Thank God it's Monday...
Bet you never thought you'd hear anyone say that. Well, listen up. At Prosperity, we believe it speaks a truth: the people who are happiest going to work are those who look forward to Mondays. They're more content, so they work better and stay longer in a job.
Our mission is to bring the right people and the right jobs together so that everyone's happy. We're brilliant at discovering the perfect candidates for employers in every sector we serve.
Our philosophy can be summed up in two words. Happiness works. We know this is true, because we see it every day, not just on Mondays.
Think about it. They're great at what they do, in a job they enjoy. What's not to love?
Thousands of people agree with us. We're now the leading recruitment company in the areas of Digital Marketing, Media, Design, Tech, Sales and Marketing.
Quite simply, our approach works.
What we believe
We believe in happiness. We believe happiness works
Happier job.
Happier life.
Happier world.
Happiness is everything.
Here are some of the sectors we make happier every day
Tech and Creative
Just a bunch of happy geeks. That's us
What do we chat about around the watercooler? Certainly not last night's telly. No, we talk about libraries and frameworks, usability, machine learning and all that wonderful stuff. OK, so by the time you read this, we'll be nattering away about what's cool now. You see, we're so evangelical about all things digital, we find it essential to not only keep up, but to keep ahead.
We're geeks. We're techno-lovers. If you ask us how much we know about digital and how incredibly great our experience is, we'll answer you in terabytes. Look it up. It's big. (Well, it was when this went to press.)
See? That's just how the digital world works. It's where we're proud to be. It's what we enjoy doing. We love working with more than six hundred web-based companies throughout Ireland. Everyone from a Mom'n'Pop online shop right through to the world's biggest web brands.
In other words, we do small and we also do terabytes. We have vast industry networks at our fingertips as well as enormous recruitment resources, which include our lovingly tended database of over 55,000 candidates.
With all of this in our hands, we're sure we can put our finger on just the right programmer or web developer for you.
Sales
Nothing happens without the sale. Ker-ching!
The sale. We're not talking about lines of thermos-sipping, sleeping-bag-wearing shoppers snuffling in the snow in January. We're talking about That Without Which Nothing Happens.
Without the Sale, there's nothing. No product. No management. No finance department. No Club Med for the receptionist. No sleep for you. No job for you, come to think of it.
Without the sale, there's no job for us either. We're realists. We know this. That's why we work without pause to find the best sales people in the business. It's this insane level of focus that has made us the specialists in Media Sales and Sales Account Management recruitment. We get the people who can really sell. And keep on selling.
When we sit down with a potential sales exec, we know we have to get it right. There's no margin for error. We need to see for ourselves that they've got what it takes. We need to know that they've consistently come up with the goods. That they've achieved or exceeded targets in previous jobs. That they're articulate, personable, presentable. We need to like them. Their current clients need to like them. We need to be convinced of their drive, their commitment, their ability.
Only then, when we're absolutely bowled over, will we lift the phone and tell you we've found the one you're looking for.
Marketing
Eight out of ten marketing departments prefer Prosperity
The happy marketing department. Nice thought. You've got the product. You've got the service. You've got the brand. But do you have the people who can tell the world?
We bring you together with the great marketing people you're looking for. The ones who can let even the dogs in the street know all about your product or brand. WE'RE BRILLIANT AT RECRUITING MARKETING PEOPLE. Notice the capital letters? That's how brilliant we are. We can find the person who will make it really happen, be they online, offline or open to swinging both ways.
You want your product to shout from the rooftops? You want to project your logo on the moon? At Prosperity, we discover the marketing people for whom a few column inches in the back of the Times is a bit, well, bitty. For whom a flyer flapping on a windscreen is just flimsy.
The Marketing Professionals we find are bursting with belief, pounding with passion, and they've got the stuff you're looking for. They're Marketing Heroes, every one, with a record of exemplary execution. And yes, they might project your logo onto the moon.
Advertising
How to get ahead in advertising?
We're the 'how to.' Just ask the Media Planners, Buyers, Account Managers and another fine folk we place every day in Agency jobs. Spanning two millenniums, Prosperity has been the recruiting sergeant for the advertising sector. In all that time, we've seen some changes, but never anything like what we're witnessing now.
You see, advertising media are changing, big time. There hasn't been this evolutionary spike in the ad game since the Creative Revolution a generation ago. Life is accelerating at an undreamt-of speed. The very idea of the ad agency is transforming in this world that lives online.
In today's advertising world, you need a thorough knowledge, an instinct, of how communications, media platforms and brilliant design coalesce and resonate with the sophisticated multitudes. In other words, you need to just get it.
At Prosperity we get it. And we love it.
We feel your passion. We admire your standards. We feel and admire that same passion and brilliance in the people we represent to agencies.
Design
We would have had Michelangelo's CV
Truly great designers are not ten a penny. It goes without saying that each one is an individual talent. They can be as stroppy as they are brilliant. They're as likely to lie on their backs painting the Sistine Chapel as dreaming up new packaging for a washing powder. They're pretty hot at interpreting a brief and creating something magical that will make you smile, dream, and applaud; that will make your brand stand out, your product shine, your customers cheer. In a global economy, great designers like these are essential.
You've got twenty similar products on the shelf. You've got fifty similar-sounding services clamouring for the attention of your customers. So how do you expect people to pick yours? You hire the right people to design your brand and product, that's how.
Which is where we at Prosperity come in. We love designers. We're masters at attracting world-class designers from here and abroad. It's our patriotic duty, you might say, to ensure that Irish companies and products present their best face to the world. That's why we're great at getting the best people to help our clients achieve that.
So if you just want a Mac jockey, you can look anywhere. If you want top-notch talent, look to us.
By the way, we do have Michelangelo's CV. Unfortunately, he's a bit busy at the moment, painting the Pearly Gates.