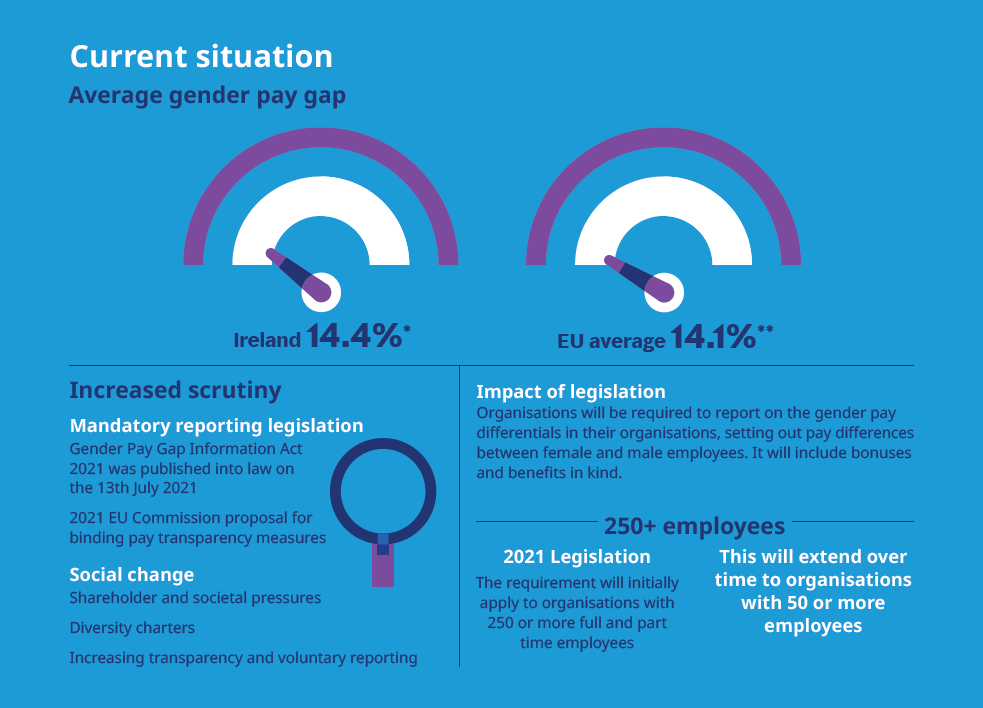 Gender pay gap in Ireland vs. The EU. Source Image: Mercer
Gender inequality has been a longstanding issue in many areas of society, and the workplace is no exception. Despite progress being made towards gender equality in recent years, there is still a significant gender gap in many industries. One such industry where this is a widely debated issue is the digital sector.
According to a report by UN Women, in AI, one of the hottest areas of digital right now, women make up only 22% of the workforce. Furthermore, the FMI has found that the percentage of women with digital and technology-related literacy, which is measured by the proportion of women in STEM fields (science, technology, engineering, and mathematics), remains low at approximately 15% globally.

Many factors are at play to account for disparities, which make it more difficult to combat. Image source: UN Women.
Gender Gap in the digital sector in Ireland (and the world)
The digital age has brought about many new opportunities, but it has also highlighted the need for greater diversity and inclusion in the workforce. Women have historically been underrepresented in technology and digital roles but sometimes it is not easy to find data around this.
In this post we will examine the gender gap in some of the most in demand jobs in the digital sector according to the latest data gathered with LinkedIn Talent Insights, the platform with the biggest dataset in the world for digital profiles.
Broadly speaking, the digital industry exhibits comparable patterns worldwide, but for our research, we aimed to investigate the extent of gender disparity in Ireland's digital sector and compare it to the European Union's overall situation.
Gender Gap per category: SEO, UX, Product, Digital Marketing and eCommerce.
Our study focused on five rapidly expanding professions in the digital industry, namely SEO, UX Design, Digital Marketing, Product Development, and eCommerce. We compared the proportions of men and women employed in these fields and discovered that, with one exception, women are noticeably underrepresented in the majority of the digital sectors.
SEO
In Ireland, the representation of women among professionals holding the job title of Search Engine Optimization Specialist is significantly lower than that of men, with only 33% of specialists being female and 67% being male. Similarly, the data collected for the European Union indicates that the gender imbalance persists, with 39% of specialists being women and 61% being men.
UX
In Ireland, there is a gender gap in the field of UX Designer, where just 45% of professionals are female, compared to 55% who are male. The gap widens even further for the role of UX Manager, where only 38% of professionals are female, and 62% are male. Interestingly, the gender distribution is more balanced in the EU, with UX Designer positions being held by 53% women and 47% men, while UX Manager positions are held by 48% women and 52% men.
However, despite this apparent balance, it is worth noting that the Manager positions in this field in the EU is still largely dominated by men, with only 45% of management positions being filled by women. This indicates that the gender gap is more significant in the more sought-after and in-demand skills, such as UX Design.
Product
In Ireland, the gender gap in the role of Product Owner is still evident, with 64% of professionals being male and only 36% female. Similarly, the role of Product Manager shows a considerable gender gap, with 58% of professionals being male and only 42% female.
Comparatively, data from the rest of the EU indicates a slightly more balanced gender representation in these roles. Specifically, in the EU, 57% of Product Owners are male and 43% are female, while 61% of Product Managers are male and 39% are female.
Digital Marketing
On a positive note, the digital marketing sector in Ireland and Europe has a notable difference in gender representation, with women taking up the majority of roles. This shows that the tech industry can be more inclusive, and it's a step towards bridging the gender gap in tech. The trend is encouraging, and it's promising to see more women in management positions in the digital marketing field.

Interestingly, within the digital sector, Digital Marketing stands out as the only area where women outnumber men in the workforce. In Ireland, according to LinkedIn Insights Data, over a half of Digital Marketing Specialists are female. Moreover, the gender diversity of Digital Marketing Managers is almost evenly split, with 55% female and 45% male. These findings align with the broader European trend, where 59% of Digital Marketing Specialist roles are held by women. Furthermore, women occupy 55% of the management positions in the field.
eCommerce
When comparing the statistics for eCommerce specialists across the EU, there is a slightly higher percentage of men working in these roles than women (51% vs. 49%), while in Ireland that ratio is at 58% vs. 42%. Meanwhile, the eCommerce manager role has a higher percentage of women in Ireland at 53%, making it the second area in which women dominate, however, not at a European scale as men still comprise most of the management – 54%.
Addressing the Gender Gap
Reducing the gender gap among the Irish workforce has been identified as a top priority by the country's employers (Dermody, 2023). As highlighted by a PwC analysis, the mean gender pay gap was set at 12.6% among Irish companies at the end of 2022.
Despite efforts to promote gender equality in the digital sector, there is still much work to be done. The lack of diversity in these fields is not just an issue of representation but some experts believe it can have implications for the industry. A lack of diversity in perspectives and ideas can limit innovation, creativity, and progress in the digital sector.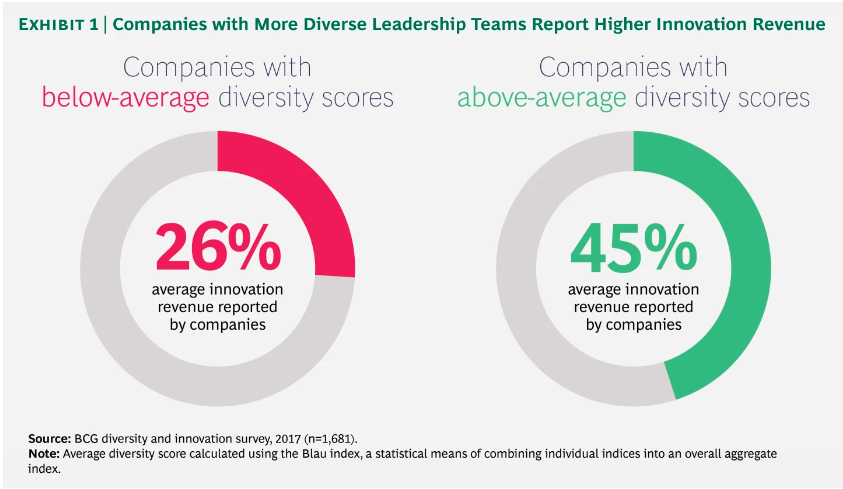 Innovation is key for the digital sector. Image source: BCG
The digital industry has much to gain from a more diverse and inclusive workforce. It is essential that businesses and organizations take steps to address the gender gap in these areas, through initiatives such as training and development programs, mentorship opportunities, and diversity and inclusion policies.
Key takeaways
Despite some progress towards gender diversity in the EU and its member countries, the digital sector in Ireland, like many other industries, still has much work to do in achieving gender equality. According to data from LinkedIn Talent Insights, most popular digital professions in Ireland have a significant underrepresentation of women. However, initiatives like the European Commission's Gender Equality Strategy 2020-2025, which focuses on measures such as closing the gender pay gap, combating gender-based violence, and increasing female participation in decision-making, are steps towards promoting gender equality across all levels of society.

Statistics regarding the gender gap in the EU. Image source: Eur-Lex
Companies and organizations have recognized the need for greater diversity and inclusion in the workplace and are actively taking steps to address the issue. There are also initiatives aimed at encouraging girls and young women to pursue careers in technology and digital fields.
Furthermore, the gender gap in digital marketing, where women hold most positions, shows that change is possible. With continued efforts towards promoting gender equality in the digital sector, we can hope to see a more balanced and diverse workforce in the years to come.
If you want to know more about the salaries in the digital field, check out Prosperity's Salary Survey for 2023.
by Natalia Dercz