Digital marketing has always been an important tool to promote products, businesses and services, but in the past five years years it has become essential for business, regardless of their size. A coherent, attractive, and trustworthy presence on the internet is now a basic expectation, and a business's sales will often depend on the breadth and/or the sophistication of their marketing efforts and platforms.
Both hard and soft skills are in needed for digital marketing nowadays; for example, you need to be confident reading metrics, analysing them, and turning them into a strategy to be explained to stakeholders.
Digital marketers should be competent in several skills and tools: data handling, visualisation, presentation, knowledge of Google Search Console and Analytics, mid-to-high proficiency with Google Suite or Microsoft tools, and experience with CRMs are all essentials for many digital marketing jobs found on the Prosperity website.
Whether in-house or agency staff, digital marketers tend to fall into two camps:
all-rounders with experience in a broad range of skills and tools, or
specialists with deep knowledge of their platform or technique.
TikTok and Instagram are now personalized B2C marketing tools that focus on trustworthiness and real-life users to sell their products with visual creative. This trend is spreading to B2B services as decision makers in companies are increasingly digital native and visual content-aware.

Types of digital marketing today
Content Marketing
To stand out from the crowd and build brand loyalty, your product needs to inspire confidence and answer your customer's questions before they even consider buying. HubSpot notes that nowadays content marketing needs to be high-quality, consistent and up-to-date to meet customer expectations.
Brands need to use different techniques to market their product according to their target audience;
Short-form content such as short videos, testimonials, influencer marketing and infographics,
Long-form content such as blog posts, product video reviews and whitepapers.
In addition to the product or service, people expect to find relevant information to help them make their decision: comparisons with other products, care instructions, suggested uses and personal reviews.
Customers in 2022 don't tend to respond to the hard sell, so the related content needs to be impactful, trustworthy and resolve any questions the customer might have about the product or service, convince them of the benefits, spell out how it solves a particular problem and offer proof of quality and value for money.
SEO (Search engine optimisation)
Search Engine Optimisation is another basic tenet of digital marketing that any professional in the field should be familiar with. High-quality SEO should inform the underlying architecture of your content so that a search engine understands that your product is relevant to a user's question or search intent.

Definition of SEO. Source: Backlinko
Getting good results from an SEO strategy involves keyword (link to keyword definition) and competitor research to shape your content and structuring it so that search engines understand the basic information hierarchy – the easier it is to understand and the better it responds to a user's intent, the better the ranking.
Clarity of information covers everything from labelling headlines correctly to clear alt texts for images and using high-volume keywords for your URL. In addition, search engines leverage user signals to gauge the quality of the information – the more sites providing reliable, honest links to your page, the more trustworthy Google thinks you are.
SEO is a necessary long-term strategy that rewards high-quality, well-structured content that comprehensively answers queries with better rankings. It's worth remembering that 75% of people don't go onto page 2 of the search results so the higher your ranking, the more people will see it.
SEO is more multidisciplinary than other disciplines, requiring technical skill and experience in creating content, attention to detail and patience – SEO experts frequently become indispensable to a company's marketing efforts and can upskill in different marketing techniques to make themselves even more valuable.
PPC (Pay per click)
Paid search or display campaigns can turbocharge a company's marketing campaigns by buying visibility at the top of the results page for the keywords you're targeting.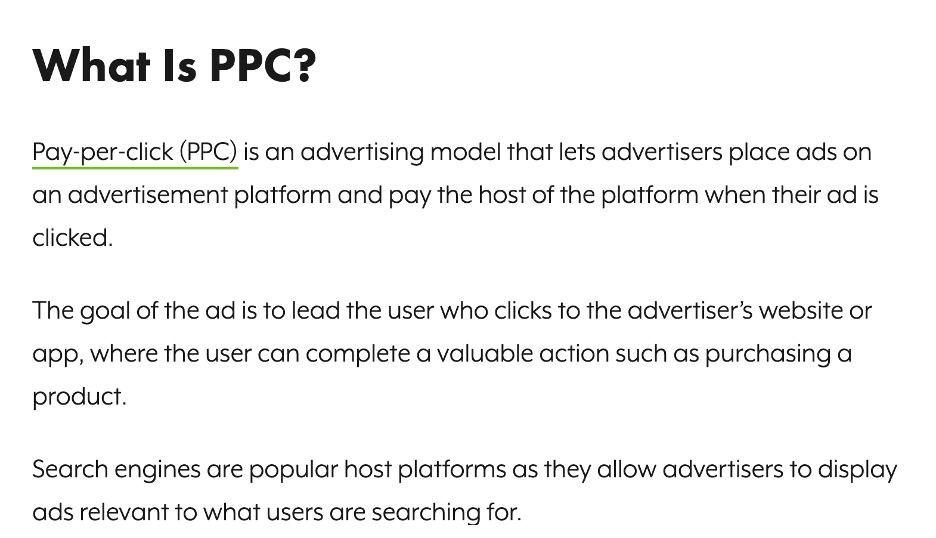 Definition of PPC. Source: Search Engine Journal
As with all the strategies listed here, PPC often requires a dedicated specialist to oversee the accounts, optimize the bids, run A/B testing on the ads and come up with dedicated creative to stand out from organic search results and other brands competing for space at the top of the page.
PPC campaigns need people with a good eye for strategy, analysis, and detail to deliver high-quality leads, meaningful conversions, and efficient returns on the spend. The broad range of skills needed to manage PPC campaigns and accounts competently means that after the recent boom in eCommerce, many companies are employing siloed PPC professionals as part of the team, making it a promising career choice for the future.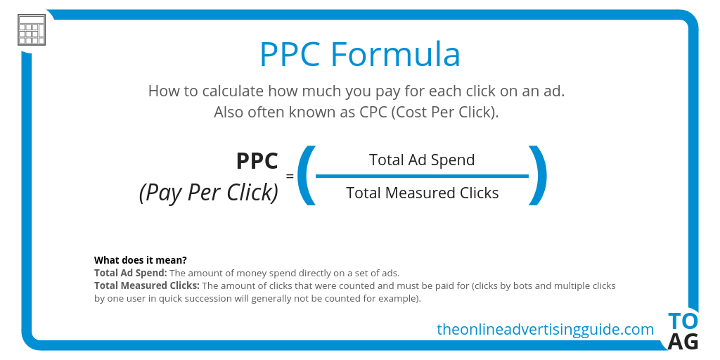 PPC formula. Source: The Online Advertising Guide
Social media marketing
Social media is now one of the most powerful and effective tools for brands to market themselves, as a well-crafted campaign will leverage the algorithms to put products right in front of targeted, high-interest customers. It's estimated that 71% of SMEs are looking to use social media for their eCommerce in 2022.
Again, maybe an image here with the user growth of social media in the last few years?
Although social media marketing makes it easier to reach people interested in a particular product, drive traffic to a landing page and convert them, a skilled professional uses their eye for design and knowledge of the platform to make sure that the adverts are scroll-stopping, stand out from their competitors, and transmit the product and its benefits in a very short period.
Social media marketing has its own subset of techniques that are transferable between platforms, but experience in particular platforms is increasingly valued by marketing companies to create dedicated campaigns.
This need for varied, exciting content means that the most in-demand talent has an eye for both attention to detail and overall strategy; two differing but complementary skills that marketing teams – agency and in-house – are hunting for.
Email marketing
Email marketing is known to be effective in helping B2B marketers to reach customers, but COVID-19 made email marketing critical as other channels were temporarily interrupted by the immediate shift in working and creative patterns.
Another reason why more and more companies value Email Marketing is because it gets them direct traffic that's not reliant on third parties. For example, for SEO companies depend on Google's algorithm changes to keep organic traffic, and for PPC they depend on their budget to keep attracting new users. For email Marketing, once the client is in the data base, companies can reach out to them directly. Therefore, email marketing has a higher conversion rate than most other acquisition channels.
Email Marketing Strategies
If you've ever subscribed to an email or purchased anything from a brand, email marketing usually kicks in to confirm you order and then keep you up to date with new products, sales, and promotions.
Email marketing is difficult to get right, as recipients tend to respond either strongly or with complete indifference. People are well aware that campaigns are often automated, but that doesn't mean they cannot be impactful.
An effective cold campaign can yield great results or can cause complaints for the brand. Well-crafted and well-timed warm campaigns with time-limited offers can bring in a lot of revenue for companies in a short period of time.
Email marketing in 2022 involves a broad range of skills and experience to craft an effective campaign that speaks to potential clients and to convert them into repeat customers – more on this in the Funnel to Flywheel section below. Although this area has changed a lot in recent years, email marketing is still very important for both eCommerce and SaaS services, even if the techniques are different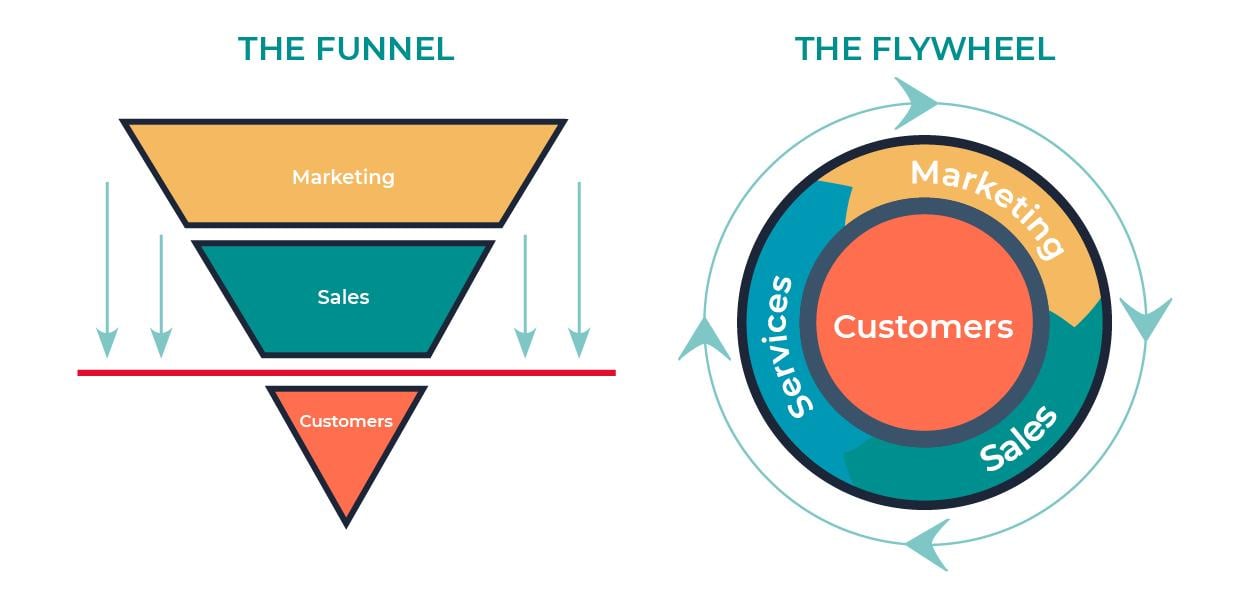 Comparison of the Funnel and Flywheel marketing models. Source: UX Digital Blog
Marketing automation
With the ubiquity and volume of email marketing nowadays, automation has become a necessity for marketers, as it draws potential customers into a funnel from a sign-up and then sends emails based on triggers, actions or time periods elapsed. Automations are also ideal for reminding customers about unbought items or past purchases, alert them to discounts or offers, and can drive repeat subscriptions or campaigns for special holidays.
The skill for the marketer here is making what risks being an obvious automation seem like a soft sell with a person behind it. People know that emails are automatically sent after a purchase or after a specified amount of time, but careful value branding, beautiful copy and clever personalisation can be very effective to drive traffic to the brands website and conversions.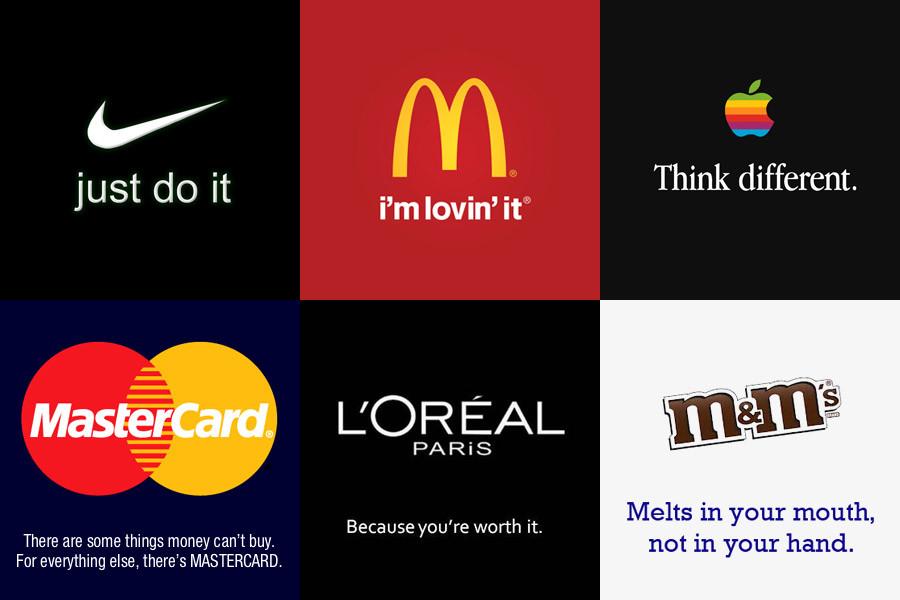 Millions are spent on memorable taglines. Source: Lynette Tand.
Beyond emails, the sheer amount of data involved in automation means that scalable, data-driven omnichannel campaigns need the right processes, tools, and team to plan, test, execute, and analyse all the data. A successful campaign will depend on a marketer's sophisticated skills and their eye for strategy, making them a valuable member of the team.
Affiliate Marketing
This is an innovative and simple way of getting other brands and individuals to drive traffic to a company's website in exchange for a commission, and well-known brands like Amazon leverage this via their Amazon Associate programme.
The affiliate earns commission for marketing and promoting another person's or company's product, and sales are tracked via affiliate links from one website to another, meaning that once the link is set up, the affiliate can easily earn money.
With the growth in social media and influencer marketing, business owners now collaborate with bloggers and influencers to advertise their products and services, with spend on affiliate marketing projected to reach $8.4bn in the US in 2022 as large companies look for new ways to market their products. In the UK over $828m was spent in 2020, making it an essential consideration for eCommerce, and requiring marketers experienced in the multi-faceted nature of this type of marketing.
Digital marketing in 2022 is still all about the basics
Marketers love to leverage the latest innovation and to be on the cutting edge of new techniques, platforms and technologies. However, the basic tools and techniques are still very applicable to the majority of businesses and you can create a solid foundation that can then be burnished with the more recent trends.
Investing in solid, classic techniques will often provide a better return on investment than experimenting with all the latest trends in digital marketing.
Need to build out a top marketing team for your company? Speak to Prosperity Recruitment today.