Download the Prosperity Irish Digital Salary Survey for 2021
Prosperity Recruitment's 2021 employment and salary survey for Ireland's digital sector.
The report highlights Covid-19's impact on digital salaries and the diverging expectations of employees and employers.
Key findings:
Interviews with CEOs and hiring managers in the digital sector suggest that many companies don't intend to increase salaries this year.
However, 69% of digital employees are expecting a pay rise in 2021.
For digital employees, career progression and salary are more important than being allowed to work from home post-pandemic.
In December, 22% of digital employees said their salaries were lower than before the pandemic.
Prosperity Recruitment is seeing increased demand for talent who specialize in working with specific platforms, such as Shopify, WordPress, Amazon ads, and Facebook ads.
Just 19% of employees in Ireland's digital sector said they would take a pay cut to continue working from home.
But one third of the 100 digital employees we interviewed would take a pay cut to work less hours.
The highest paid roles in digital are Director of Marketing, Head of eCommerce, Head of Search and Chief Technology Officer.
Web developers, SEO executives and PPC specialists have the fastest growing salaries.
Readers can download our full 2021 salary survey here. Reporters will find a PDF copy here.
Most Covid-19 salary cuts have been restored:
When the Covid-19 pandemic struck, many companies in the digital sector cut staff salaries. There was much uncertainty as lockdown came into play, but many industries performed better than expected.
"Lots of salaries were cut during Covid-19 but, from what we've been told by CEOs and hiring managers in the digital sector, most of them have been restored," said Gary Mullan, Director of Recruitment at Prosperity. "Where salaries were cut, the reduction usually stood at 10-20%."
As part of its research, Prosperity Recruitment conducted a mini survey of just under 100 people who currently work in digital roles in Ireland. In mid-December, 22% of them said their salaries were lower now than before the pandemic occurred.
Looking deeper at the survey responses, it wasn't surprising to see that these continued cuts were more common among those working in SMEs. One third of SME staff said their salary remained lower than pre-pandemic levels, while just a sixth of multinational employees were experiencing the same.
However, on a more positive note, most of those SME workers who were still experiencing salary cuts in December said they expect a pay rise this year.
There will be few salary increases in 2021:
As businesses moved online during 2020's lockdown, digital skills became more important than ever. But most companies don't intend to increase salaries this year.
"It's been an extremely turbulent time for lots of sectors. Many companies cancelled marketing campaigns. Media agencies suffered client spending cuts. And, for many, Brexit still presents many unknowns," commented Prosperity's Gary Mullan. "Though the outlook for 2021 is positive, employers are still cautious."
He continued: "Based on discussions with clients, it would appear that most companies don't intend to increase salaries this year. However, most of the employees we've spoken to are expecting a pay rise."
In fact, 69% of the digital employees who took part in Prosperity's survey said they expect a pay increase this year. While any remaining pay cuts are likely to be restored, Prosperity doesn't expect to see many significant pay increases.
At a minimum, salaries usually increase based on inflation. But according to the Consumer Price Index, average prices in the latter half of 2020 were consistently lower when compared to 2019's.
But, on the flipside, salaries are unlikely to decrease either. The Prosperity Recruitment team are seeing plenty of demand for mid-level e-commerce and digital marketing talent. Creative agencies and retailers, in particular, are actively hiring. But the flow of CVs coming in right now is slow.
"We could see some pay increases for a small selection of in-demand roles," said Gary Mullan. "But with industries like travel and events suffering badly right now, we expect digital salaries to remain steady overall."
Web developers and PPC advertising specialists could command higher salaries:
Many of the pre-pandemic trends we noted in last year's salary survey are set to continue. E-commerce is booming and web developers, PPC specialists, and SEO experts are in high demand.
Prosperity Recruitment expects content writers with extensive SEO experience and e-commerce specialists to see small salary increases. But web designers and PPC experts may see a more significant change in their incomes this year.
"Some of the companies I've spoken to say that the cost of hiring an experienced developer has already gone up by 10%," said Gary Mullan, Director of Recruitment at Prosperity. "We suspect this rise in salary is here to stay."
In some industries, there's also more demand for PPC specialists. According to Wolfgang Digital's most recent Online Economy Report, ad spend in certain areas is up. This is highly unusual during a recession but, with Facebook and Google both seeing double-digit growth, there's no denying the trend.
For those investing in digital ads, their return on investment is much higher too. As a result, we expect to see salaries increase for PPC specialists in certain sectors, like health. This could have a knock-on effect for all performance marketing talent, but we don't expect this to take hold across the board in 2021.
"At Prosperity, we've also noticed that more and more clients want niche expertise," noted Gary Mullan, Director of Recruitment at Prosperity. "They're after a developer who specialises in Shopify. Or a PPC specialist who is laser-focused on Amazon ads. As a result, we may begin to see different salaries emerge within these specialties."
Employers will take negotiations beyond pay to get through 2021:
With many employees expecting salary increases and many employers not intended to provide any, 2021 could be a tough year for workplace relations.
"One major issue facing some employers is that wage increases and salary reviews were promised before the lockdown," said Gary Mullan of Prosperity. "This will be difficult to navigate as the market has changed considerably. But there's room for negotiation."
As a result of the pandemic, employers were forced to become more flexible in terms of working hours, location and even job sharing. According to Prosperity's Gary Mullan, all these things will come into discussions around salaries.
"Where employers aren't in a position to offer pay rises, we expect to see case-by-case negotiations happening," he said. "And I think having an open conversation around salary, benefits and flexibility is something that could ultimately benefit everyone involved."
Last October, a survey of 2,000 employees in the UK found that 45% of them would consider taking a pay cut to continue working remotely. However, the employees we surveyed didn't see working from home as a significant bargaining chip.
Just 19% said they would take a pay cut to continue working from home, while 17% said they would reduce their future salary expectations.
But with reduced business costs for employers and less commuting time for employees, it's definitely an option that cash-strapped employers should bring to the table, according to Gary Mullan.
"While it won't work for everyone, lots of employees have moved out of Dublin to areas where renting or buying is considerably cheaper," he said. "For these people continuing to work from home will reduce transport costs, commuting times and should improve their quality of life."
But employers have other perks to negotiate with too. One third of the digital employees we spoke to said they'd take a pay cut to work less hours. And when we asked them what was most important to them, career progression took precedence over salary.
Career progression is most important to Ireland's digital employees:
"We were surprised to discover that the staff we surveyed didn't place a higher value on working from home," said Prosperity's Gary Mullan. "But we suspect this is because digital workers assume remote work will continue - without any need for a trade-off."
Anecdotally, it appears that both employers and employees expect working from home to continue - at least some of the time. But it isn't a priority for staff.
In our mini survey of digital workers, we asked what was most important to them and this is what they said:
Career progression - 45.5%
Salary - 28%
Learning opportunities - 11%
Working from home - 9.5%
Wellness programmes - 6%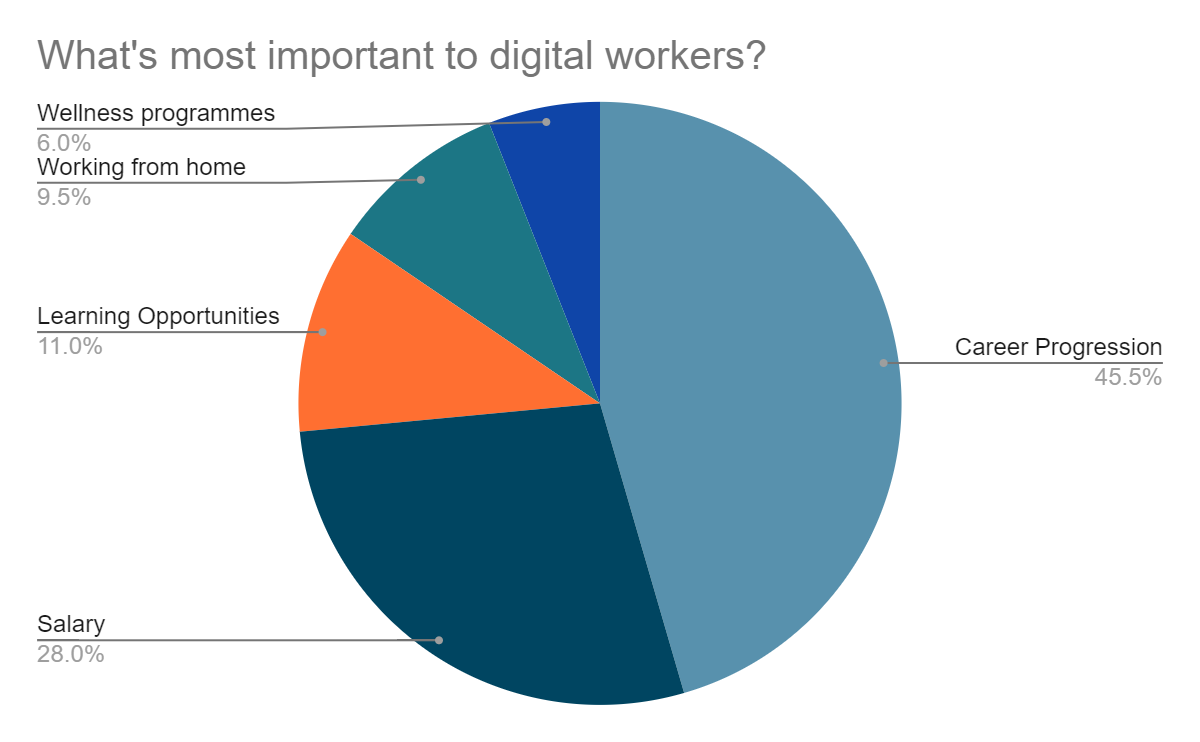 "Employers who aren't in a position to increase wages right now should engage with staff who want a pay review," Gary Mullan said. "As a result of the Covid-19 pandemic, loyalty is at an all-time high and there are plenty of compromises to be made."
According to employees in the digital sector, most employers responded well to the pandemic. In fact, most employees were impressed by the efforts made and say their loyalty increased during the Covid-19 crisis. So they're not eager to leave.
"It's worth going the extra mile because replacing staff can be costly," he adds. "At a creative agency, for example, losing an account manager who is working on a large campaign will jeopardise client relationships and cost the business around €15,000 to replace."
A 2019 survey of HR managers also suggested that the cost of replacing staff is on the rise. (At the time of the survey, finding a replacement cost more than €14,000 on average.)
But if employers can create ideal work conditions for their employees, Mullan says they'll see increased employee satisfaction, better retention in the future, as well as reduced replacement costs right now.
An international talent pool could impact wages:
While it's clear that digital workers have moved away from the city centre over the past year, it remains uncertain whether people employed in Ireland will move further afield and work remotely from there.
In many situations, some office time is critical. One digital agency Prosperity spoke with insisted that in-office collaboration was vital to the creative process, so having a fully remote team wouldn't work. While one media agency that Prosperity spoke to says that a third of staff will work from home each day post-pandemic.
Then there's the likes of Google who asked staff to return to Ireland before the end of 2020, Bloomberg reported that this was partly due to tax and legal reasons.
With working from home becoming normalised, however some employers are tapping into the international market to access talent.
"We recently had a client who, pre-Covid, insisted that the candidate needed to be on-site. But once they went remote during lockdown, they decided that not only did the candidate not need to be on-site, but that the candidate didn't even need to be in the country," commented Mullan. "This opened up hiring options and they eventually hired someone from another market."
In the likes of France, there is a large, highly skilled talent pool available. But salaries and the cost of living are slightly lower than in Ireland. Companies are connecting with developers from even further afield too.
There is no denying that some employers are looking abroad to save money. But we expect to see Irish workers take advantage of this trend as well. By working remotely for companies based in the US or Australia, they can benefit from both international experience and higher salaries.
The future looks bright for e-commerce and digital job creation:
2020 was a record-breaking year for digital shopping in Ireland. This is expected to continue - even when the high street shopping experience returns to normal.
According to Deloitte, China's 2003 SARS outbreak changed consumers' daily habits and consumption patterns - and this led to a permanent change in shopping behaviour. The Covid-19 pandemic is likely to have the same effect here.
The SARS crisis is known for launching successful Chinese e-commerce companies, like Alibaba - which created about 41 million jobs in 2018.
In Ireland, we expect demand for e-commerce and digital talent to continue. According to the eCommerce Association of Ireland, 10,000 e-commerce websites were created last year and each one of these creates or supports three jobs.
"This is good news for the digital economy," commented Gary Mullan, Director of Recruitment at Prosperity. "Particularly, if a culture of purchasing local products online can be developed. And that could be one of the few upsides of Brexit."
From speaking with clients, Prosperity has also noticed that Irish media companies are changing their businesses to offer a more diverse selection of services to their clients.
"This repositioning will most likely lead an increase in hiring too," said Gary Mullan. "While employers still face plenty of challenges, the outlook for Ireland's digital economy is positive. We hope our insights can help them engage with employees and get through 2021."
Our methodology:
Our 2021 salary survey is based on an analysis of salary data, as well as our own data, industry insights and recruitment expertise. Because Ireland's economy has had a turbulent 2020, we also spoke directly with employees and employers as part of this year's research. We conducted a series of interviews with CEOs and hiring managers in the digital sector, as well as a small survey of 100 workers.
About Prosperity:
Prosperity is Ireland's leading Digital Recruitment Agency, specialising in advertising, marketing, e-commerce, sales, data, UX and tech jobs. Established in 2001, Prosperity is dedicated to forging prosperous connections between candidates and recruiters. With a finger to the pulse of Ireland's digital economy, Prosperity is to the forefront of trends and developments in the sector.