Finding talented employees for your business is not a simple undertaking, especially if you do not have a human resources department to handle the task.
Your search will be much more difficult if the person you need to hire is a digital expert, or, in other words, someone who specialized in Digital Marketing, SEO, PPC, UX/UI Design or Web Development. In addition to that, you will face competition from major technology companies, start-ups with millions in funding, and even foreign businesses that hire remote workers.
You may also consider using a hiring agency, altough many businesses would like to avoid the expense, or are unable to cover it. However, if you are interested in learning how agencies like Prosperity Digital recruit digital talent for other businesses, read on as we reveal the strategies for doing so.
Use different job boards to publish your offers
This process is not overly complicated or expensive. In general, it costs between 200 and 300 euros to publish a job offer on employment portals.
On job boards you will attract candidates who are seeking new opportunities either because they have lost a job, or becayse they are looking for new professional challenges. These are so called ¨active¨candidates, as opposed to ¨passive¨candidates, who are not actively searching
Here are some tips that could help increase your offer´s visibility, that we follow at Prosperity.
Take a fair amount of time writing your job offer. If you put in the effort to look at the offers available on the job posring websites, you probably thought at some point that they are all similar - and you are right. In order to stand out, use a personal writing style and try to find your own, unique tone. Our copywriters at Prosperity spend hours crafting the offers to be enticing. Do not intend to sound like the best company in the world; instead, be honest about the needs of the given position, the qualifications you are seeking in candidates (both soft and hard skills), and the career path the position might lead to.

Mention the salary.

In most circumstances, this will surely be a wise choice. You will save a great deal of time during the negotiating process, practice transparency, and immediately determine whether your range fits the applicable profiles. Make sure the salary is appropriate - if you compensate below the market, you are very likely to see an increased employee turnover. Altough more and more job applicants are considering factors other than pay, income is still a crucial component of what will make your offer appealing to prospects. At Prosperity´s job board almost all available job offers have disclosed salaries.
Pick the right job sites. Not all job boards are the same. There are general websites, as well as more niche ones, such as ones for

tourism related

jobs, positions in engineering

,

or startup offers

. Take the time to determine which of them has an audience that most closely matches the profile you are seeking. As a general guideline, you should publish your position on at least two different websites: a general job board and a specialized one. If you want to post on various portals, there are tools that will make it simple for you to publish on virtually as many websites as you like and collect the applicants into one talent pool.
Filtering tools or how to choose the right CVs
You may need to filter through a high number of CVs that are not necessarily a fit for what you are looking for in a candidate if you post a role on a website like LinkedIn, Jobs.ie, or JobsIreland.
The ease of applying to offers makes many candidates adopt a large-scale strategy of sending CVs to as many offers as possible in order to increase their chances of being hired. Selecting among a large pool of candidates is likely to be time-consuming if you do it one by one.
Some companies solve this with ATS - applicant tracking systems -, which are integrated into their websites to centralize incoming CVs, cover letters, and applications. Regardless of the IT and management system you have, modern ATSs feature integration possibilities make them more efficient.
At Prosperity we centralize CV management via a CRM. In the sector, there are several specialized companies that make managing candidates and clients easier. CRMs make it possible to keep a contact list, client database, resumes and professionals in one digital location. There are several platforms offering their specialized services in the recruitment sector, such as Bullhorn, Beamery, or Smart Recruiters. However, it's likely that you won't need a full CRM implementation if you do not require many new hires or have a big number of clients. The costs for a CRM can add up very quickly.
Headhunting. Direct search for "passive" candidates
At times, posting on websites is insufficient. If you are unable to select a candidate among the active ones that have applied for your job offer, the next stage is to seek among the passive applicants. Such a process is known as "headhunting" or direct candidate search in the recruitment sector. A top platform for headhunting, in addition to being a website where you can post job offers, is LinkedIn.
LinkedIn Recruiter
You may search through millions of professional profiles on LinkedIn. Depending on the degree of access you are looking for; the cost varies from €120 to €800 each month. Once you have access, you can filter all users according to the skills you are interested in and send them a message directly to display your job offer. In nearly every industry, but especially in the digital sector, this option has in recent years truly evolved into a necessary tool for recruiters and human resources consultants.
There are other professional social networks that provide access to vast databases of candidates such as Xing, Jobs.ie, and Indeed, however, LinkedIn clearly leads the industry with more than 800 million active members to conduct candidate searches. In Ireland there's almost half the population registered on the platform.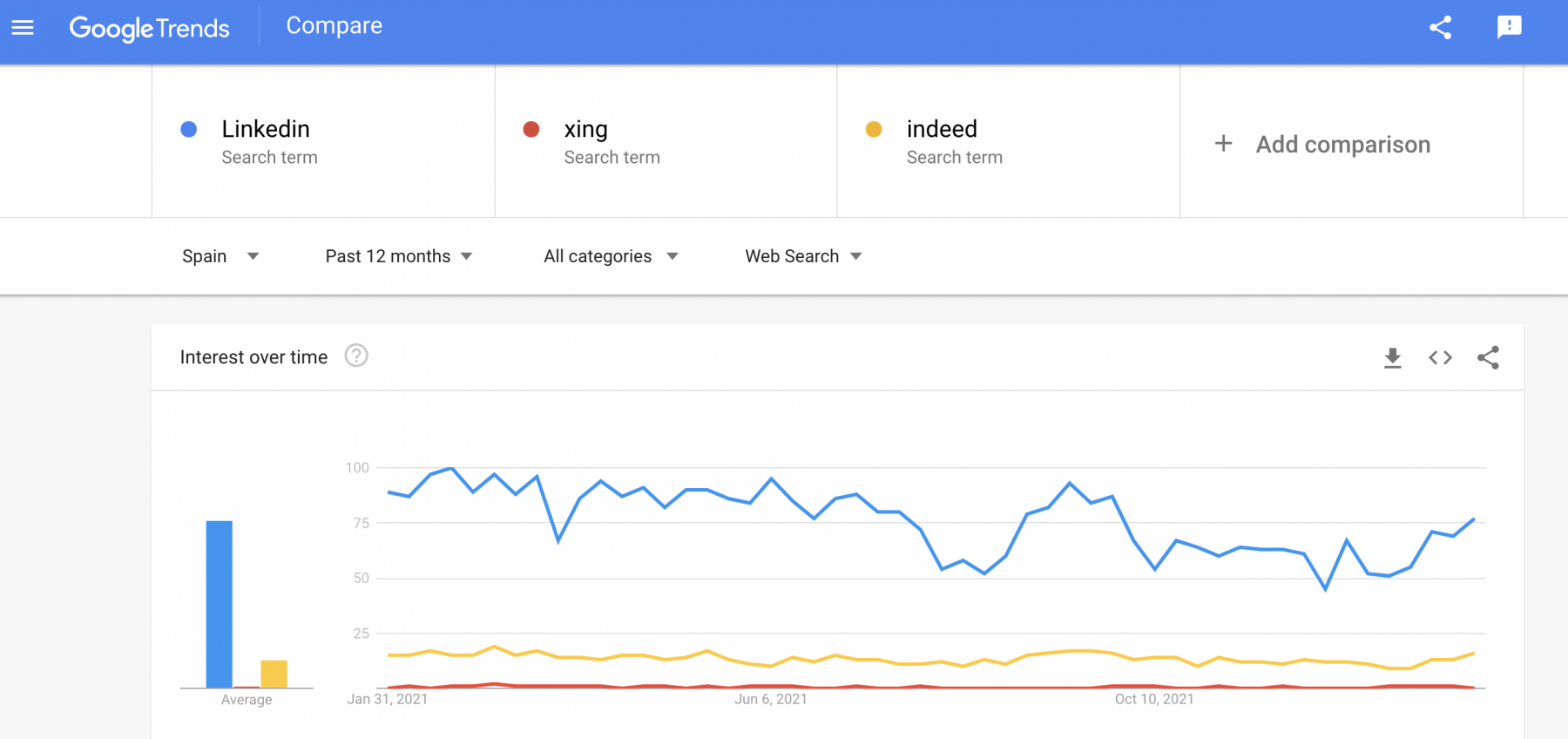 Comparison of search volume between LinkedIn, Indeed and Xing in the last 12 months in Ireland. Source: Google Trends
Candidate Database
Another method of headhunting is to have your own database of potential candidates. At Prosperity Digital, we have a database of more than 100,000 registered candidates that we manage through our CRM. Due to the CRM's adaptability, using any necessary criteria, we can divide the applicants, including active users, passive users, skills, geography, wage expectations, and more. It is a good option if your staffing needs are significant as it takes time to build such a database. In addition, you will need to exercise caution considering GDPR, changing legal requirements in Europe, and privacy management.
The cost of hunting for talent
In a digital recruiting firm such as Prosperity, LinkedIn and our own CRM are both crucial tools for attracting candidates, but they are challenging to duplicate if you want to hire someone for the first time. Depending on the position you wish to fill, the cost might easily reach thousands of euros between software, administration, platform accounts, and the consultants' time spent doing the search.
Traffic on your website
Any business or company must have a website, but you are likely to only draw customers interested in your goods or services. Even if you have a page for open positions, it is not very likely that you will be able to draw in many applicants on your own, as search engines like Google or Bing will not be able to ¨see¨ your openings favoring job boards to rank against job offer queries.
Since recruitment agencies such as Prosperity have their own employment portals to draw people organically via Google searches, they frequently have an advantage over other employers in this regard.
SEO as a talent acquisition channel
At Prosperity, we employ an SEO approach to position ourselves in search results as a resource for employment in the digital industry and careers in digital marketing, UX/UI, agencies and recruiting— fields in which we are experts. Consequently, we receive consistent traffic from experts looking for terms such as "SEO manager jobs," which enables us to rank well in the search results.
In general, offering excellent content, adhering to Google's recommended practices for optimal indexing, and giving users a positive browsing experience are the components of an effective SEO plan.
Prosperity has been in the industry for more than 20 years, and for the last 10 of those years, SEO has been a pillar of our strategy. Nearly half of our candidates find us through our website organically, but we must point out that this is a long-term strategy, so you might have to wait to see results if you want to replicate it for your own website.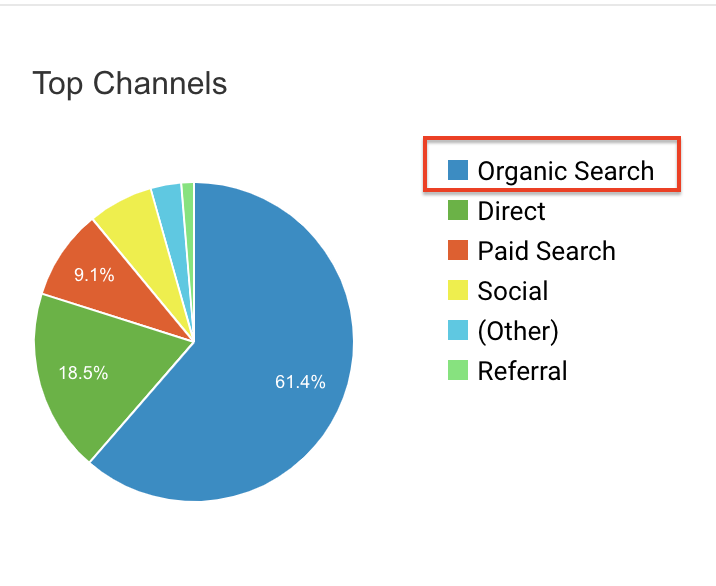 Graph showing the different acquisition channels by traffic percentages. Source: Prosperity Recruitment
Searching for candidates with PPC
If you want to appear instantly in front of your candidates, beyond posting job offers on job sites, you can do it through paid advertising on the internet: PPC (Pay per click).
There are many platforms that fit this model, such as Facebook ads, LinkedIn Ads, or Twitter ads, although the biggest – and the one we use the most in our recruitment agency – is Google Ads.
In Google Ads you pay to appear in the searches that you want, the cost will have many variables, but can range from €0.01 per click to €50 or more, depending on the word you bid on. For example, for a click on "ppc jobs manager" we are currently paying 0.20 cents. It's a simple yet complex system at the same time, but until the time you don't want to spend any more, you can have direct flow of potential candidates to your offer.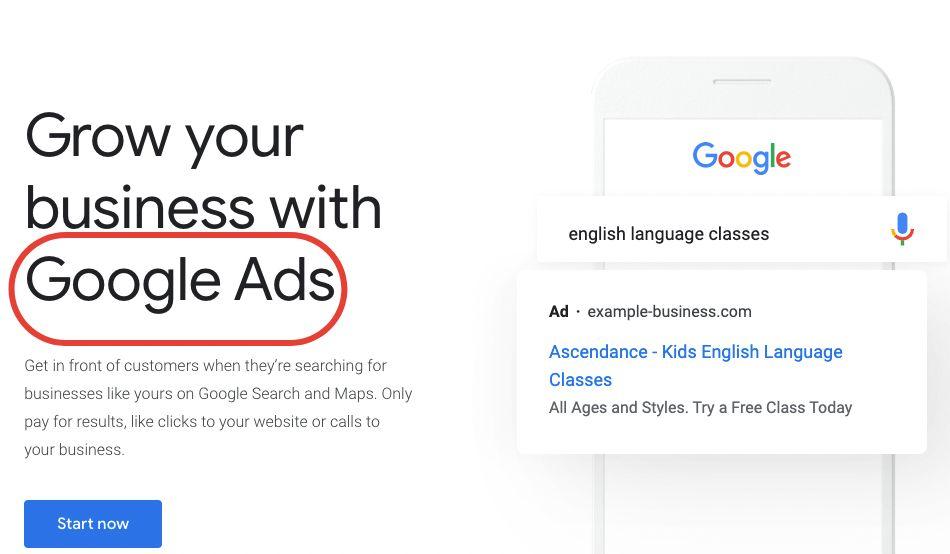 With more than 300 billion in revenue, Google Ads serves clients of all sizes. Source: Google
At Prosperity we use ads to attract both active and passive candidates. In another article we will explain how we do this in more detail. For the time being, just keep in mind that it is a traffic acquisition channel that you can explore if you want to attract traffic immediately.
Specialist Recruitment Services
Searching for a professional in the digital industry is different from searching for a professional in the building industry. For this reason, there are recruitment agencies that focus on one or the other. Since each industry has its own unique traits and recruiting consultants cannot possibly know what all experts globally are like, specializing is almost a requirement.
There are sizable consultant businesses such as Hays or Adecco, who have sections to locate various sorts of profiles. However, our most sincere advice is that you consult a specialized recruiting agency if you are clear about the profile you are looking for. Such an agency will be able to build a strong rapport with you and comprehend your needs better since they have a better understanding of the specific market.
Experience comes by degrees
If you execute it correctly, being in the market for a long period helps you build authority.
Prosperity Digital can assist various clients in finding digital profiles. More than 6,000 professionals have benefited from our career assistance. They helped us generate a network effect that has only become stronger over time. Having said that, because we are a well-known brand in the industry, our experience makes it easier for us to draw in professionals.
Conclusion
Although it is time-consuming and often costly to attract talent, it is not impossible. You have read about some of the strategies used by our recruiting consultants. Many of the activities tackled in this article can be completed on your own. At Prosperity, we think that the company itself understands best what makes it unique and how to effectively communicate its values.
We understand that not everyone is able to dedicate time and resources to the vast array of tasks included in the recruitment processes, thus, if this is your case, do not hesitate to contact us, we will be happy to assist you.