The Web has entered an era of user-centricity. If businesses are to attract new customers and retain existing ones, they must create websites and apps that deliver intuitive and tailored experiences. Whether you run an online retailer or a not-for-profit community website, the user experience is mission critical. But what capabilities does the term "UX" encompass?
And how do you hire the right UX people with the right UX skills for your business?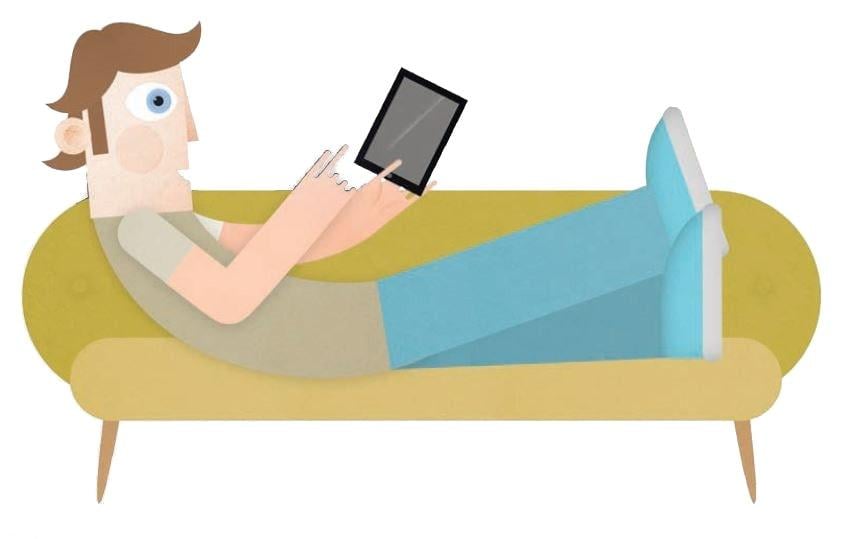 Firstly, what is a UX and UI designer?
UX Designer and UI Designer are two vastly different roles and a single person should not be hired to be responsible for both. Hiring the combination UX/UI Designer greatly increases your chances of failure, since both of these roles are equally as important to your success.
Dan Norman, so the story goes, was the first to use the term back in 1993 at Apple and said that: "User experience encompasses all aspects of the end-user's interaction with the company, its services, and its products".
UX/UI is a hard skill to teach; no formal credentials are required, and no two career paths or job descriptions are the same. In fact, pinning down exactly what UX/UI is can be difficult. It can mean different things to different people. Some UX design positions require only graphic design skills, others mainly planning and wire framing. Most, however, require a combination of design, planning, negotiation, people management, objectivity, leadership and flexibility. Most importantly, a good UX/UI professional must ave a natural appreciation of the human mind and be open to new attitudes and approaches and to exploring the impact of real people on the commercial environment around them.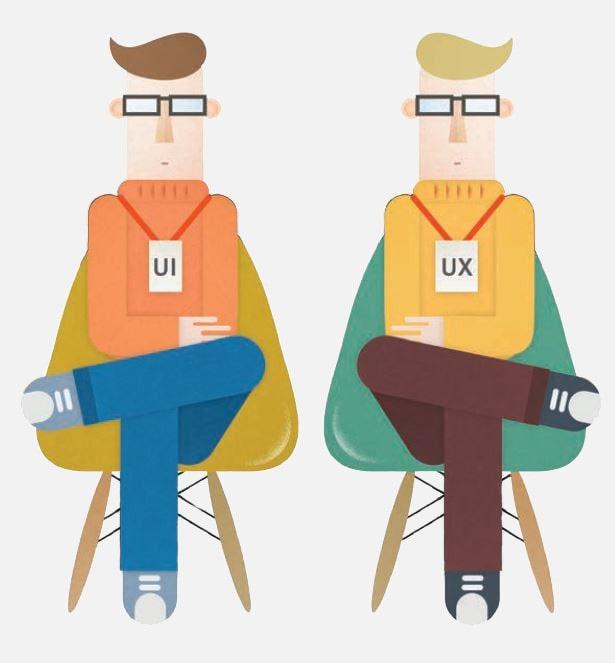 UX Designer / Specialist / Director
Many people think the job of UX is to lay out wireframes to specify where elements go, and do it in a way that the user won't get confused while using your app and website. Yes, that's a part of it, but that's not remotely close to the most important aspect of the role. A UX Designer's job is to know everything there is to know about their users, and to keep their experience consistent throughout all phases of the project. This means the UX Designer needs to be involved in every step of the process, from concept to execution to implementation.
The UX Designer's responsibilities may include things like:
Conducting user tests
Face-to-face interviews
Field research
Creating user personas
Studying detailed analytics
Prototyping
Layouts
UX Designer is in charge of the overall outcome of the project. This means they need to be involved in many different places at once, ensuring the value to the user is never diluted or compromised and they should at all times represent the best interests of the user's experience. A UX designer is considered more of an analytical and technical position. The responsibilities are to lay out wireframes, specifying where elements go and to do that in the way that the user doesn't get confused.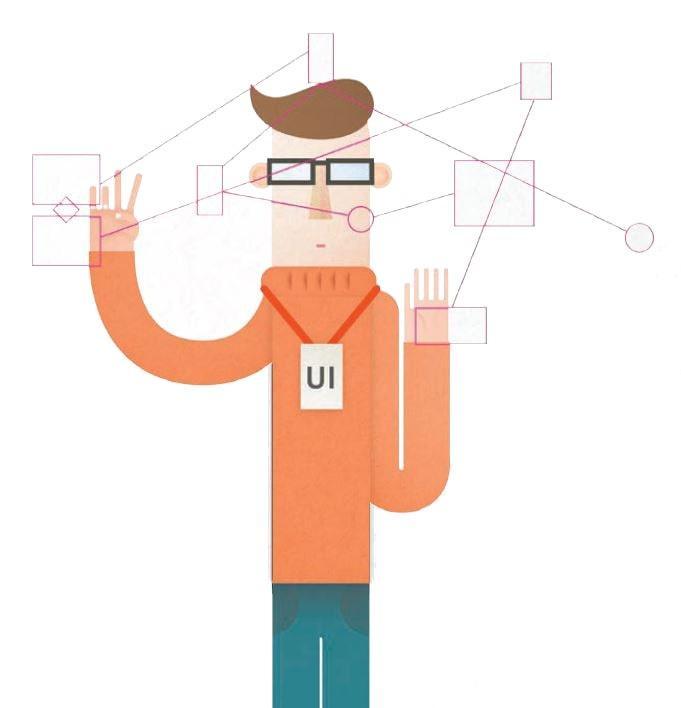 What does a UX and UI designer do?
Many people also think the job of a UI Designer is to just make wireframe mock-ups look visually appealing. Once again, while this is technically correct, it's not the most important element. It's not only about the way the visuals look, but how they work, where they're placed, and how easy it is to determine what can be interacted with. The UI Designer is building tools for our users to interact with in an enjoyable way.
Their responsibilities may include things like:
Interface layout
Interface design
Visual design
Interaction design
Establishing visual guidelines
The UI Designer is a more focused role, being in charge of only a specific area of the project, ensuring that the interface is visually appealing and can be interacted with in a successful way.
A UI (User Interface) designer is closer to what people think of as a graphic designer and is in charge of making wireframe mock-ups look visually appealing.
In fact both parts of UX and UI are crucial to the end product and the two work closely together.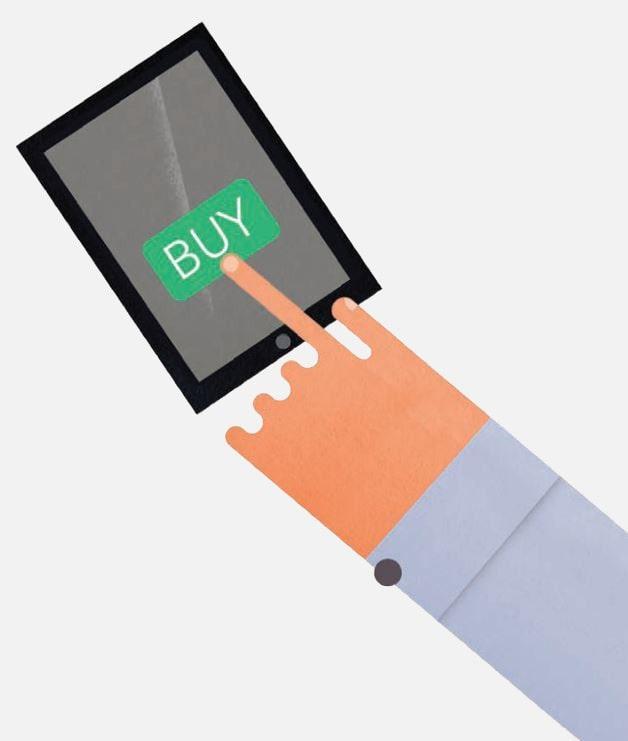 Why are they important?
One thing is for sure, though: UX skills are in high demand and short supply. It's a candidate's market, and companies need to try now more than ever to attract and retain the best minds in the field if they are to succeed online. People, especially start up founders, don't really understand what User Experience Design is, but they do understand that it's important. Ultimately having a usable interface is an extremely important part of launching a successful digital product.
If people can't use a product, they won't.
97 % OF WEBSITES FAIL AT UX
Websites that fail UX suffer from frustrated users and poor conversion rates — but with the right UX team, the development process can be more proactive... and more profitable. Testing with just 5 users can find 85% of your site's problems Customer retention is a big deal — yet the majority of users fail to convert because they think you don't care about their experience. Implementing UX processes during design and development builds user loyalty and increases conversions.

///end
///start-gray
I can only hire one person - which should I hire?
At Prosperity we believe that if you find yourself in a position where you can only hire one person, hire a UX Designer first, i.e. let them be the very first person you hire or assign to a project. Why? Among all the things that make up a good user experience, one of the most important is desirability and thus ensuring that you're creating something that people want. You need to be sure you're hiring a person with a full range of UX experience, including the user research and overall value part, and not someone who just takes UX into consideration when creating wireframes.
User Experience (UX) Designers are data junkies who can generate interactive experiences to satisfy even the most specific of audiences. They know the importance of putting yourself in the shoes of a user, and know exactly how to take an interactive project from beginning (user analysis) to completion (personas, site maps, taxonomies, and wireframes).
The range of UX skills and specialties can be viewed as a spectrum, with one end being "softer" skills, such as the ability to empathize with users, and the other end being more technical, such as being able to create functional prototypes in HTML and CSS.
Most UX professionals are going to have several areas of expertise, but their skills will tend to fall into one of three high level skill set categories:
User research
Information architecture/ interaction design
Visual designs.
"Great," you're probably saying to yourself,
"so can I hire one person to do all of that stuff?"
Unfortunately, the answer is probably "No."
The range of UX skills and specialties can be viewed as a spectrum, with one end being "softer" skills, such as the ability to empathize with users, and the other end being more technical, such as being able to create functional prototypes in HTML and CSS.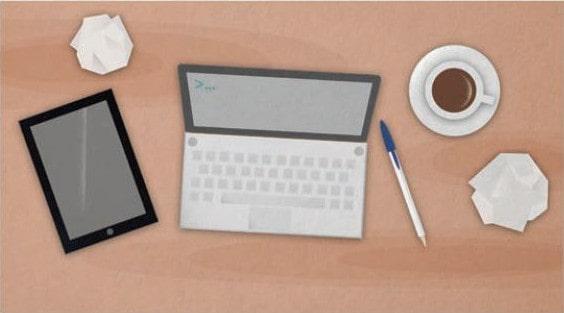 Start by hiring a UX Designer first
Looking at the UX professionals' areas of expertise in more detail, their skills will tend to fall into one of three high-level skill set categories:
User research
Information architecture/ interaction design
Visual designs.
1. USER RESEARCHERS
Help understand who customers are and what to build to serve their needs.
COMMON TITLES
UX Strategist, UX Researcher, Usability Tester, Usability Engineer
COMMON DELIVERABLES
Usability tests and findings
Analytics reports
Personas
Scenarios
Journey maps
Task analyses
Survey creation and analyses
Focus group findings
Competitive audits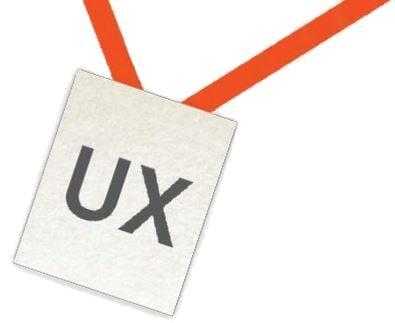 2. INFORMATION ARCHITECTS/ INTERACTION DESIGNERS
Define the structure and flow of the user experience.
COMMON TITLES
UX Designer, UX Architect, Information Designer
COMMON TITLES
Workflows
Wireframes
Site maps
Storyboards
Journey maps
Low-fidelity prototypes
Sketches
Card sorts
Taxonomies
Start by hiring a UX Designer first (contd)
3. VISUAL DESIGNERS
Design the look and feel
COMMON TITLES
UX Designer, UI Designer, Interface Designer
COMMON DELIVERABLES
Comps
High-fidelity wireframes
Prototypes
Pattern libraries (for items like navigation elements, links, calendars, etc.)
Font selection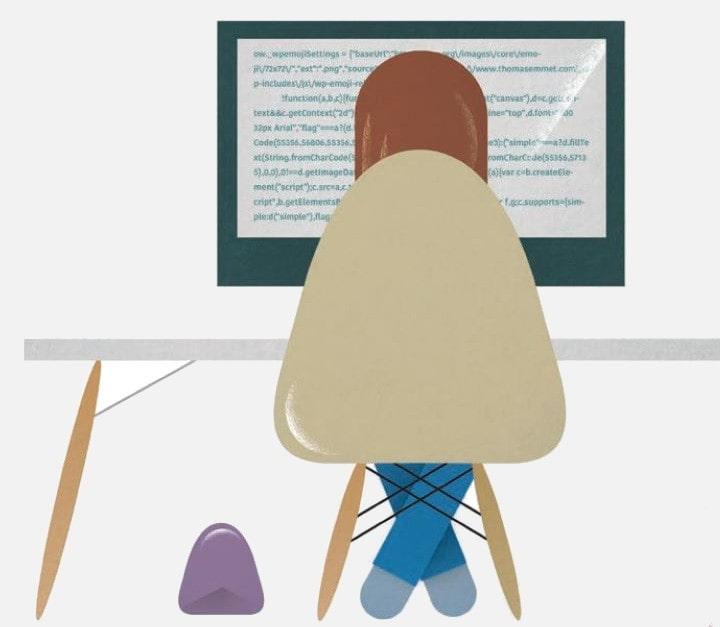 UX and UI - today an evolving field
The terms used above are by no means universally accepted. And rarely will the experience or expertise of a UX professional be limited exclusively to one niche or another. For example, an "interaction designer" at a small company might be responsible for wire framing, prototyping, content development, and usability testing. At a large corporation, an interaction designer might have a more specialized role and focus solely on creating wireframes and prototypes. It's also becoming more and more common for folks to brand themselves as UX generalists, regardless of their specific responsibilities, and call themselves simply "UX Designers" or "UX Architects."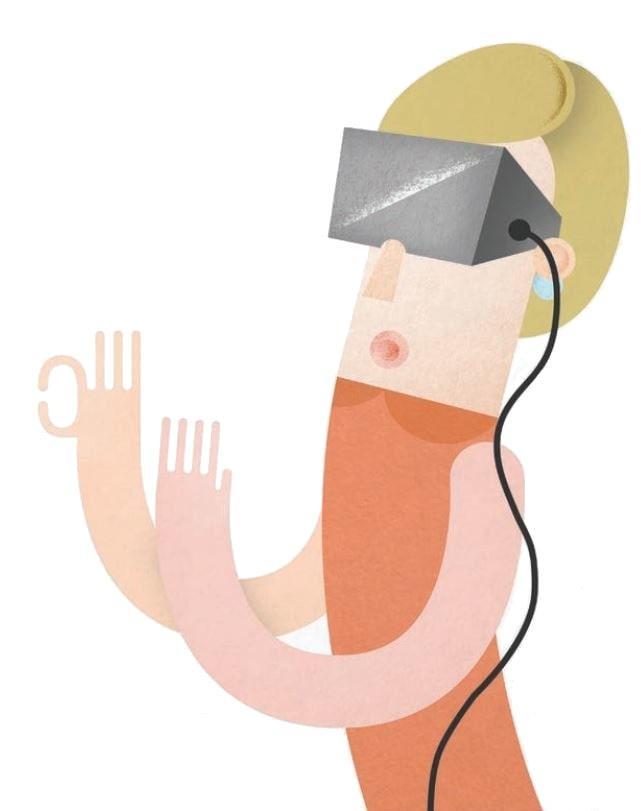 How do I figure out what kind of UX professionals I need and how do I find them?
PROSPERITY TIPS:
1. First, take into consideration what your current needs are. What challenges are you facing right now? What problems are you trying to solve? What are you building, and where are you in the process? What sort of tangible outcomes or deliverables will help you achieve your goals?
2. Are you starting a brand new product and need to understand the competitive landscape and verify that your new product will serve people's goals and needs? Then, what you need is someone who can help you do research and build a meaningful portrait of your users, probably someone with a strong user research and usability background.
3. Do you need help defining what your new application should look like and how it's various features and functions should be organized? If so, you probably need someone with a background in information architecture and interaction design.
4. Are you an established brand that needs to present a modern digital presence to your evolving client base? In that case, you probably need a team of talented visual designers who are aware of the latest trends and best practices.
But what if you don't know what you need? Or you're working on multiple projects and can't determine which one person would be the best to get started? In that case, we recommend that you may want to hire a senior UX professional with experience building teams and developing project strategy. The right UX strategist can help identify the right problems to address and clearly define the processes, deliverables, and talent necessary to get you where you want to go.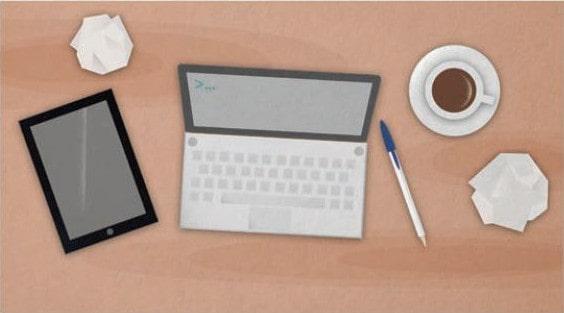 Recruiting and evaluating UI/UX Designers:
A Hiring Manager's Guide
WHAT TO LOOK FOR?
If you're looking to hire a UI or UX designer, you have a lot of competition. In both UX and UI design at Prosperity we suggest that one of the most important things when hiring a designer is to know your company's needs and also to look for people with a clear process on how they execute, step by step, toward the business goals their work is applied to.
AT PROSPERITY WE BELIEVE:
1. It's less about the skills, or even the experience, and more about their understanding of your business and what you need.
2. Good candidates need to have a clear outlook on how to execute on the goals, the best UI/UX designers will amplify the culture of your company.
3. Understanding potential candidate's motivation and philosophy behind what they do. Technical competency, knowledge and experience matter a great deal however understanding their behaviours, uncovering patterns and then looking at their personality and how it would fit with your team and clients is critical.
At Prosperity we find that often times hiring managers focus only on technical competency, and they end up bringing an individual into the company who hurts the team. Fit and talent are just as important as technical knowledge.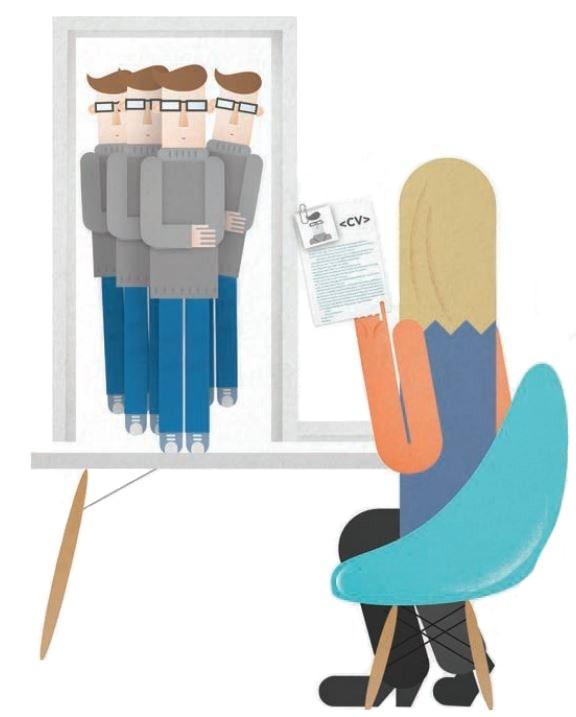 Prosperity's suggested interview questions
THESE ARE SOME OF THE INTERVIEW QUESTIONS PROSPERITY USE:
1. Teamwork: ask how might the candidate expect to integrate their work into your team? So based on the team you have in place, where do they see themselves fitting in, why do they regard themselves as crucial to the team?
2. Self-awareness: another good interview question, is to ask designers how their peers would describe them using at least seven adjectives.
3. Task based interview: while a UI Designer can show you their portfolio with tons of examples of interfaces they've designed, a UX Designer can't show you a portfolio, because the majority of their work takes place behind the scenes. So a good strategy for hiring a UX Designer is to show them a wireframe and ask them to improve it for you. Good UX professionals will try to understand who the users are and why they're using the product, instead of just making visual changes they think will work.
4. Context: Great UX work is based on hours of research and understanding your user's mind-set, you can only make the proper decisions about what is best for a user when you really understand them. So ask the candidate what methods do they use to help them understand the end user? Ask them about previous projects how complex were they? What was the budget? What exactly did this candidate do? What were the results? Alternately, describe the business challenges you are
facing and ask how the candidate would apply UX/UI principles and methods to address them. Knowing when to employ what from a bag of UX tricks is a critical skill. Make sure the candidates you're considering have it.
5. Soft skills: UX/UI professionals must serve as champions for the user, which often means developing practical solutions that marry user needs with goals of the business. They then need to present these solutions so that any member of the business team can understand and support them. Ask your candidates about a time when they had to "sell" an idea or a solution to sceptical stakeholders. Don't forget to consider how effectively they present themselves and their experience to you during the interview itself!
COVER ALL ANGLES:
Prosperity suggests that because it's rare to find a single person who has true expertise across all these elements, when you're starting out, you'll want to look first for well-rounded candidates who have at least one area of deep expertise. Aside from covering all the bases, the reason you'll want to hire a team, rather than a single remarkable individual, UXers are social creatures and work best with at least one partner in crime. No matter how skilled or experienced, every UX practitioner benefits from having someone around with whom they can collaborate, brainstorm, and learn.
Let's hear it from the experts
AND SOME INSPIRATIONAL WORDS FROM THOSE IN THE KNOW...
Rahul Verma Vice President of Experience Innovation & Design (Global) Citi
Quick tips on how to hire a UX and UI Designer:
1. Know the difference between a user's experience and the user's interface. When in doubt, ask Google!
2. Make sure you understand your requirements. What do you need this person to do (a) Be a Photoshop wizard, design logos, responsive design, prototyping - UI Designer is what you are looking for (b) Understand user requirements, design personas, journey mapping, emotive response, quantitative and qualitative research – UX Designer is what you need!
3. Write a job specification which attracts talent at the right level. You may need a seasoned expert to revolutionise your design or you may need an intern to get you up and running.
4. Pay generously. Designers are passionate about their creativity and this means when you find the right resource, you will want to retain them. Perks help also.
Mark Swaine at Dogpatch
"There is a lack of quality candidates in the Irish market so it helps to have knowledge of the industry and what the different roles require and Prosperity are very good at this. Prosperity is quite unique as a recruiter; they really try to understand the candidate's skills and match them with the best positions in companies that they believe will be a good fit. Recruiters for the most part do not fully understand the practice of UX and the role they are hiring for. Recruitment Agencies need to constantly self-educate in UX and be more understanding of the holistic disciplines involved in UX when placing the right candidate. Prosperity is unique in that they do this. In my experience most companies generally do not know what they are looking for when they are seeking a UX person; some clients think they are hiring a designer. It is up to the recruiter to educate and rewrite the job specification aligned to what the client is really looking for from a candidate".
Interested to find out more insights?
CONTACT DETAILS:
At Prosperity we believe that we offer a unique and invaluable approach to our clients and to our large network of specialist candidates. We feel that our years of experience in the web sector combined with our highly consultative approach makes us a consistently effective recruitment partner. If you need help with hiring a UX or UI designer, get in touch. We are here to help!.
You can call us at: +353 1 544 8700. Or email design@prosperity.ie