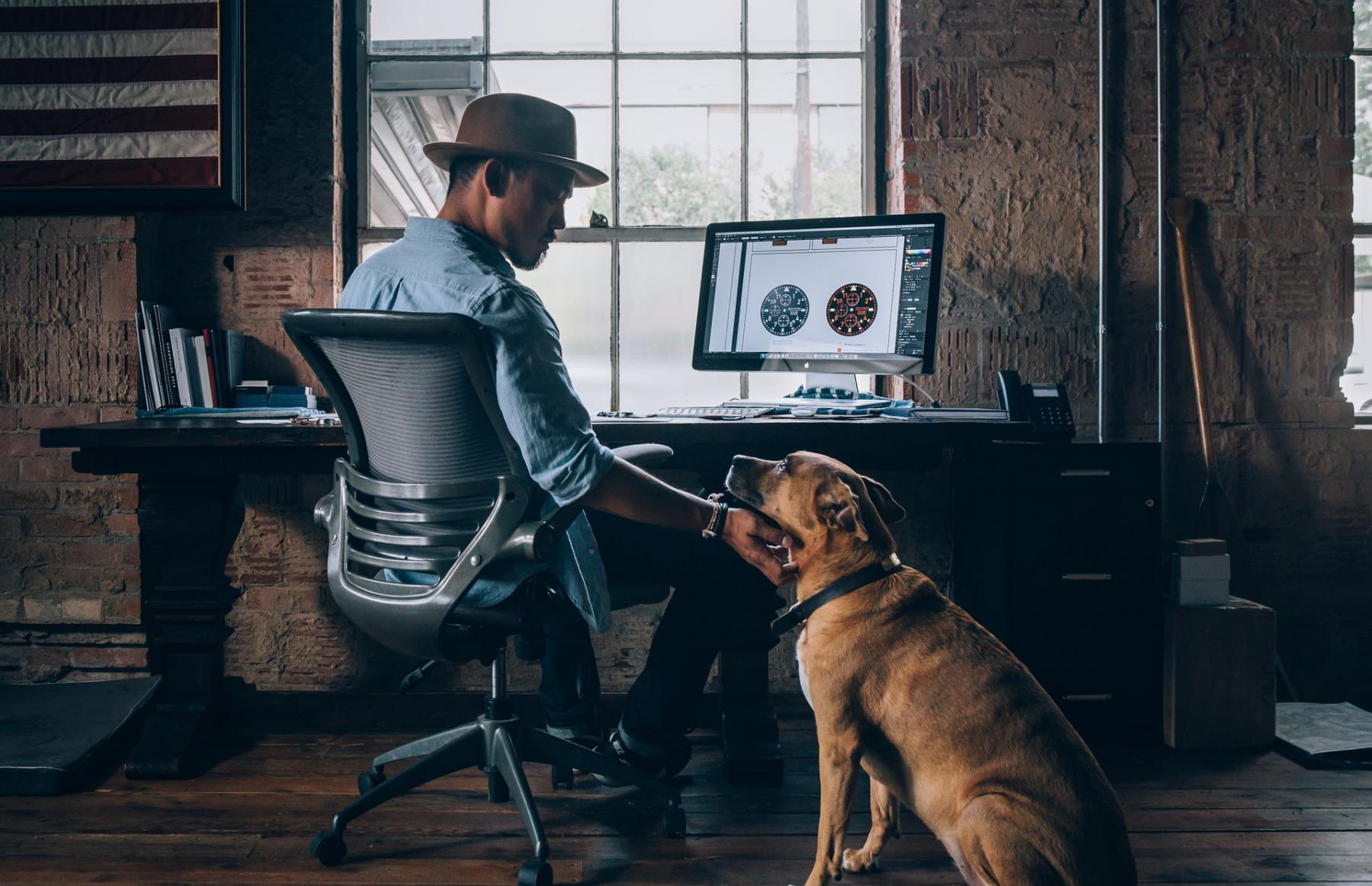 A 2016 study found that one in two Irish households own a dog. Arriving home to your four-legged friend's frenzied and affectionate welcomes is a great way to end the work day. However, having a dog in the office provides far more benefits than leaving them at home - for employees and employers alike.
Why employers should create dog-friendly workplaces
32% of workers said they would be more likely to apply for a role at a company which allowed their dog in the office. That's according to a CV-Library survey of 2,000 workers in the UK and Ireland.
This desire for dog-friendly workplaces is likely to increase as the number of millennials in the workforce grows. Millennials are more likely to have a pet but less likely to live with a partner, so allowing them to bring pets to work can certainly make life easier for them. As well as convenience, it can also contribute to:
The benefits of a dog in the office for employees
For employees, bringing their pet dog to work can:
Increase social interactions
Improve their mood and job satisfaction
In fact, looking at CV-Library's survey, 40% of Irish workers would like to see more companies allowing pets at work. However, 13% also said HR teams should enforce strict rules around it.
Introducing a dog-friendly policy requires some thoughtful planning. Does your office lease allow for pets? Do any of your staff fear dogs? What about allergic reactions?
You need to consider health, safety, animal welfare and cultural sensitivities before throwing open your doors. Perhaps dog-friendly areas would be more appropriate. You should also clearly communicate what level of training is required before a dog can be brought in.
Our Spanish Office
Prosperity has recently opened a branch in Barcelona, Spain, and our team there are currently working out of WeWork. As this is a space that is very progressive in terms of facilitating dogs in the workplace, it is, at times, a dog lovers' paradise. The little guy at the top of this article is a resident there, and he can often be found hanging out at one of the puppy stations -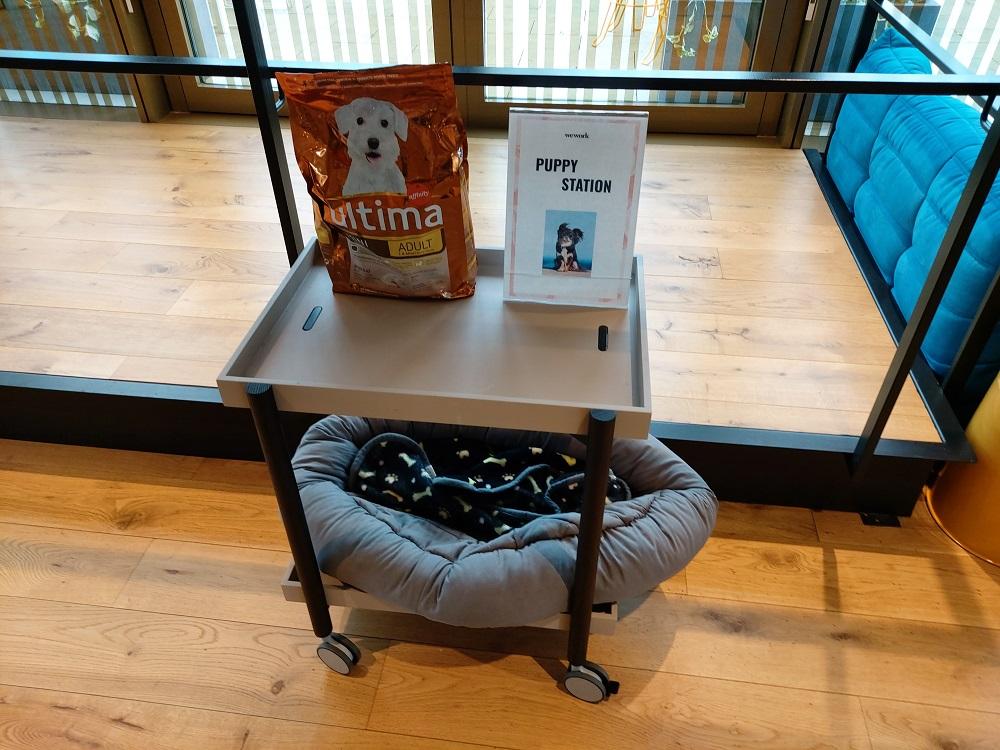 Puppy Station in our Barcelona Work Space
Dog-friendly workplaces in Dublin
In Dublin, we also of course have WeWork, and other co-working spaces such as Iconic Offices and Dogpatch Labs leading the way for dog-friendly workplaces. While tech companies like Google, HubSpot, Airbnb and Amazon also use this perk to attract talent.
At startup hub Dogpatch Labs, a policy must be signed and approved before members can bring their dogs to the office. This clearly outlines what's expected of them, setting out rules around supervision and behaviour.
According to Community Manager Jake Phillips, access can be revoked if there are ever issues. But to date, this has never happened. "We think the positive uplift to morale and general office vibes that a well-trained dog brings is fantastic," he says.
Over on the other side of town, Breffni O'Dwyer brings her pooch Sadie to work with her at Host & Co. - a hospitality PR agency.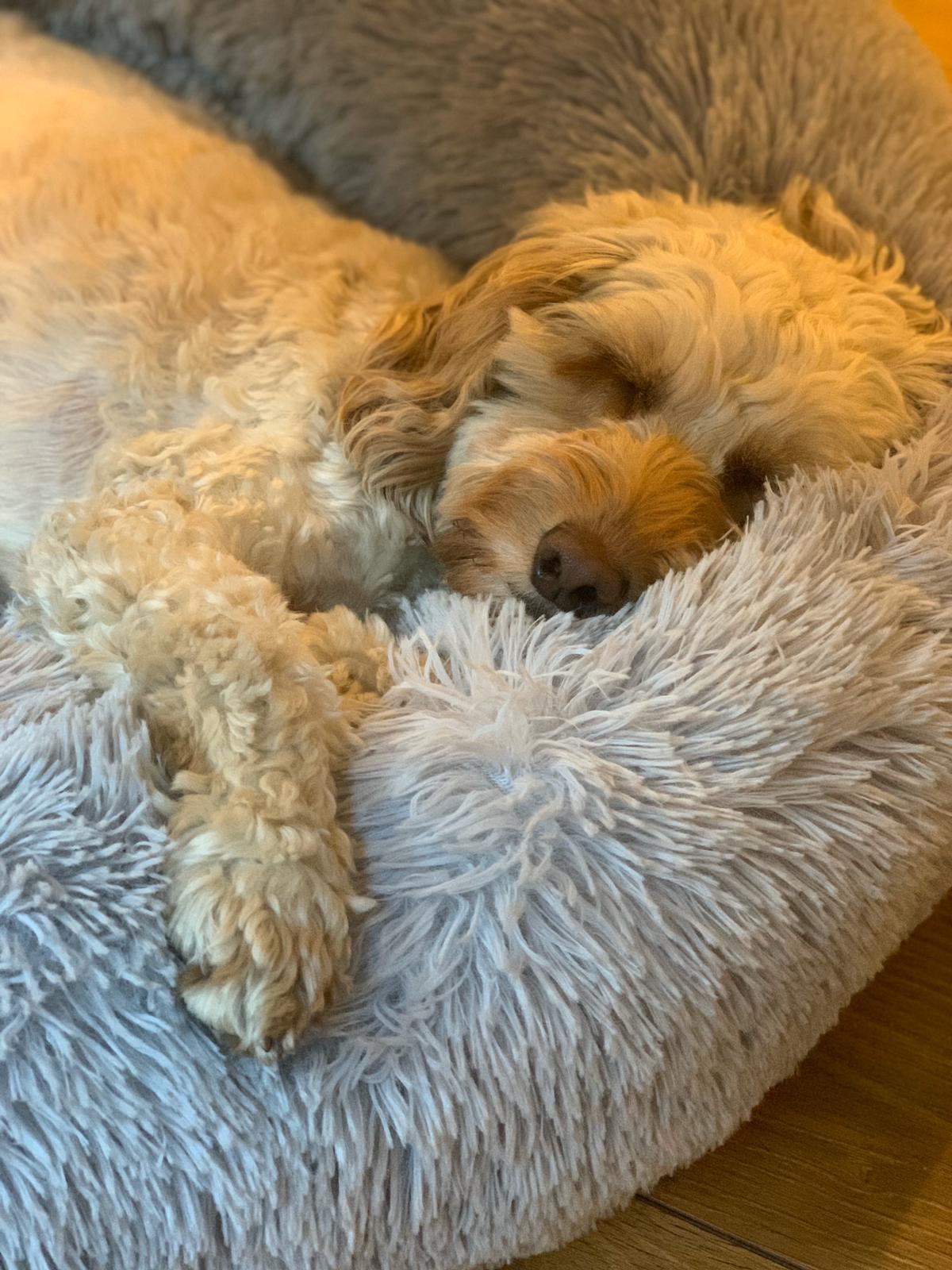 Sadie Hard at Work in Host & Co
As the team is quite small, there's no need for an official dog policy. But before meetings, they let clients know about Sadie. Most people really like that we have a dog here, says Breffni, but alternative arrangements can be made if necessary.
For her, the benefits of an office dog include a more relaxed environment and an incentive for team members to step away from their desks and get some fresh air while walking the dog in nearby Stephen's Green. "Sadie chills everybody out a bit," she says.
As dog-friendly workplaces increase, more employers will have to consider introducing similar policies to make their roles more attractive to pet owners. Luckily, office dogs come with many more benefits besides.
Prosperity specialises in digital recruitment. Every day, our team matches employees and employers. Want our help? Contact Prosperity today.